The 16th Edition of the Fes Festival of World Sacred Music will take place in Fes, Morocco from June 4th -12th, 2010. The Fes Festival's theme for 2010 is "Journey of Initiation: from mystery to revelation.
The Fes Festival of World Sacred Music is 9-day celebration held in mid-summer (June 2010) that takes place in the imperial city of Fes. The festival was founded in 1994 by the Moroccan scholar and philanthropist Faouzi Skali and was created to showcase major musical traditions of sacred, spiritual music and world music. The current Artistic Director is Cherif Khaznadar, a pioneer of world music and one of the most influential Artistic Directors on the scene. Each year the festival celebrates artists from Muslim, Jewish, Christian, Hindu and other faiths to perform together in a spirit of mutual respect and collaboration.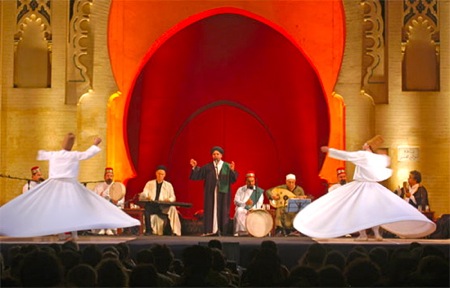 The Fes Festival of World Sacred Music is comprised of:
A four-day Forum called Rencontres de Fes under the rubric "Giving Soul to Globalisation" where politicians, social activists, academics and religious leaders come together in dialogue to discuss the urgent issues of our times. These include conflict resolution, climate change, urban renewal, social justice and much more. Intimate afternoon concerts are held at the Dar Batha Museum and its surrounding Andalusian gardens. Art and film exhibitions, poetry readings at the Dar Bartha Museum and other locations within Fes.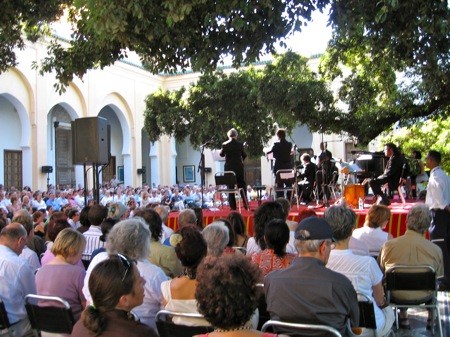 Sufi nights: Sufi music rituals concerts that begin at midnight performed by Moroccan Sufi brotherhoods in the Dar Tazi gardens, in the heart of the Fes medina. Sufi brotherhoods (tarikas) are common in Morocco, and music is an integral part of their spiritual tradition, in contrast to most other forms of Islam, which do not use music. Sufi music is an attempt at reaching a trance-state which inspires mystical ecstasy. The brothers hold hands in a circle and chant or dance. Marrakesh and other regions of Morocco are home to the Gnaoua Brotherhood, which claims descent from the Ethiopian muezzin Sidi Bilal. Gnaoua ceremonies (deiceba) are used to protect against mental illness, scorpion stings and malicious spirits. Deiceba may be related to Sub-Saharan African ceremonies and use a long-necked lute of African origin called the guembri, as well as castanets called garagab.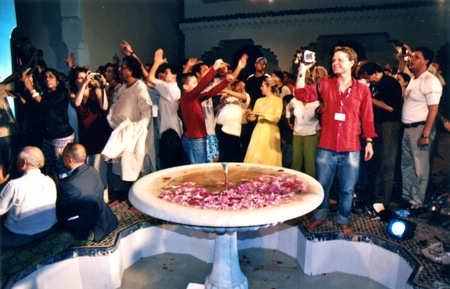 The Fes Festival of World Sacred Music has featured wide range of global musicians such as Miriam Makeba, Ismael Lô, Mohamed Abdou, Tartit Women's Ensemble, Ghada Shbéïr, , Sabah Fakrih, the Blind Boys of Alabama, Jan Garbarek and The Hilliard Ensemble and the Whirling Dervishes of Konya in the dance of Odissi Madhvi Mudgal.  Performers like Youssou N'Dour, Ravi Shakar and Salif Keita have been juxtaposed with less known musical genres such as Japanese Gagaku, Indonesian Gamelan and folk music from Central Asia.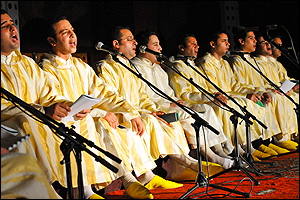 FES FESTIVAL OF WORLD SACRED MUSIC PROGRAM
2010
June 4th -10th, 2010
June 4th
Bab Makina 20h30
Royal Ballet of Cambodia (Cambodia) The Legend of the Creation of the Khmer Kingdom
June 5th
Batha Museum 16h00
The Young Gotipuras Dancers (India) Ritual acrobatic dance from the temples of Orissa
Bab Makina 20h30
Ben Harper (USA) The roots of popular American music, from gospel to blues, from reggae to folk
June 6th
Batha Museum 16h00
Shakila Saidi & the Rajab Suleiman Trio (Tanzania) The art of taraab in Swahili tradition
Bab Makina 20h30
Africa Spirit: The Sufi Ensemble Mtendeni Maulid (Zanzibar) and Les Maîtres Tambours (Burundi) Sufi ritual and sacred rhythm
June 7th
Batha Museum 16h00
Ahmed Essyad and the Accroche Note Ensemble (Morocco) Forbidden Voices: mystical poems of Hussain Mansour Al-Hallaj
A Night in the Medina 20h30
Various locations including the Batha Museum, Dar Tazi, Dar Mokri, Dar Adiyel and the Ben Danan Synagogue
Camille with Clément Ducol (France) God is Sound and Bach, Le Canon Perpétuel
The Constantinople Ensemble and Barbara Furtuna (Iran & France) Canti di a Terra
Ustad Gholam Hossain and his ensemble (Afghanistan) Sufi Chants and Robab Lute
Epi (Mongolia) Songs of the Steppe Nomads
Gülay Haçer Toruk (Turkey) Songs of Anatolia
Kiya and Ziya Tabassian (Iran) Sitar and Persian tombak
Musicians of the Nile (Egypt) Tanoura Sufi dance and song from Luxor
June 8th
Batha Museum 16h00
SamulNori Hanullim Ensemble (South Korea) Percussion and Sacred Dance of Korea
Bab Makina 20h30
Shahram Nazeri and the Rumi Ensemble (Iran) The Sufi poetry of Jalâl ud Dîn Rûmî
June 9th
Batha Museum 16h00
Parvathy Bâul (India) Mystical poetry of the Bauls of Bengal
Bab Makina 20h30
Jordi Savall  and the Hesperion XXI Ensemble (Spain) with guests from Morocco, Iraq, Greece, Israel, Galilee and Armenia Jerusalem, City of Heavenly Peace and Earthly Peace
June 10th
Batha Museum 10h00
Pandit Hariprasad Chaurasia (India) Morning ragas on a bansuri flute
Batha Museum 16h00
Bagdad-Jerusalem Ensemble (Israel & Iraq) Music of the Jewish tradition of Baghdad
Bab Makina 20h30
Sizero Tabla Experience (India & United Kingdom) Rhythmic India
June 11th
Batha Museum 16h00     
Dhafer Youssef and his Ensemble (Tunisia) Sufi Songs revisited
Bab Makina 20h30
Great Voices of Aleppo with Sabah Fakhri, Sheikh Habboush, Mustafa Hilal, Ahmad Azrak and Safwan Abid (Syria)
June 12th
Batha Museum 16h00
David Murray and the Gwo Ka Masters invite Archie Shepp (USA & Caribbean)
Bab Makina 20h30
Gospel Voices:
Part I: Sista Kee (USA)
Part II: The Blind Boys of Alabama (USA)
FES FESTIVAL ENCOUNTERS
09h00 to 13h00 June 5th -9th at the Batha Museum in Fes
June 5th: Journey to the Inside
June 6th:         Journey into scripture
June 7th The pilgrimage
June 8th:         Exile
June 9th:         The mythical journey
Plus: Discussions every evening from 18h00 to 20h00
FES FESTIVAL IN THE CITY PROGRAM
June 5th -13th
– Concerts at 18h30 at Place Boujloud
– Concerts at 20h00 at Ait Skato
– Sufi Nights from 23h00 at Dar Tazi
– Educational activities for children and artistic workshops at 15h00 and at 18h00 at al Qods Complex and al Houria Complex
– Exhibitions at Batha Museum and at Dar Tazi
For more information on attending the Fes Festival of World Sacred Music on a Travel Exploration Morocco Group Tour
For more information about Travel and Tours to Morocco plus highlights on Moroccan culture visit Morocco's Imperial Cities, Seaside Resorts,Sahara Desert, Berber villages, A Taste of Morocco, Magical Kasbahs, Ruins & Waterfalls, Absolute Morocco, The Best of Marrakech, Fes, and Ouarzazate.
Travel Exploration specializes in Morocco Travel. We provide Tours and travel opportunities to Morocco for the independent traveler and tailor-made tours for families and groups with a distinctly unique flavor. From Morocco's Seven Imperial Cities, to the Magical Sahara Travel Exploration offers a captivating experience that will inspire you. At Travel Exploration we guarantee that you will discover the best of Morocco! Call Travel Exploration at 1 (800) 787-8806  or 1 (917)703-2078  and let's book a tour to Morocco for you today.
Fes, Fes Festival of Sacred World Music, The 16th Edition of the Fes Festival of Sacred World Music, Fes Festival of World Sacred Music Tour, Fes Tour, Fes Historical Tour, Fes Festival Tour, Fes Morocco Tour, Fes UNESCO World Heritage Site, Fes Festival Group Tour, Fes Festival Private Tour, Batha Museum, Bab Makina, Morocco Travel, Tours to Morocco, Morocco Vacations, Morocco Holidays
Tags: Bab Makina, Batha Museum, Fes, Fes Festival Group Tour, Fes Festival of Sacred World Music, Fes Festival of World Sacred Music Tour, Fes Festival Private Tour, Fes Festival Tour, Fes Historical Tour, Fes Morocco Tour, Fes Tour, Fes UNESCO World Heritage Site, Morocco Holidays, Morocco Travel, Morocco Vacations, The 16th Edition of the Fes Festival of Sacred World Music, Tours to Morocco