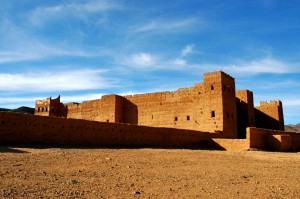 The Draâ Valley is Morocco's longest river. It's formation is that of the Dades River and Imini River and flows from the High Atlas Mountains southeastward to Tagounit and from Tagounit mostly westwards to the Atlantic Ocean somewhat north of Tan-Tan. The water from the Draâ is used to irrigate Palmeraies and small horticulture along the river. The inhabitants of the Draâ are called Drawi, used to refer to the dark skinned people of Draâ that make up the largest portion of its inhabitants.  The Draa Valley originally was known as the Valley of Olives but when the 19th Century caravans passed through the date palms arose within the trails they traveled.  The palms proved to be a better choice to continue as a grown commodity because they bare dates, are used to make baskets, leafy carpets and over shade for the inhabitants.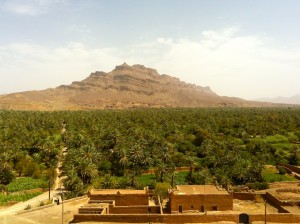 The Draa Valley is surrounded by and made up of volcanic rock and breathtaking landscapes that lend to traces of the old routes of the caravans. Agdz, referred to as the Door to the Draa Valley and famous for its market of dates and palmeraie is a charming, town with a palmeraie view worth visiting on a Draa Valley one-day tour. From Agdz Moroccan travelers can journey on a seven-kilometer pise in the Draa Valley to discover old Ksars where the Berbers have been living for centuries. This area is known for the Haritine people who are black descendants from the region of Mali.
Located in the heart of the Draa Valley is  Kasbah Tamnougalt. Kasbah Tamnougalt is an incredible example of a traditional Moroccan Kasbah with its soaring spaces built of red pise (mud), tunnels and interior spaces. Kasbah Tamnougalt also has a large Jewish quarter (mellah)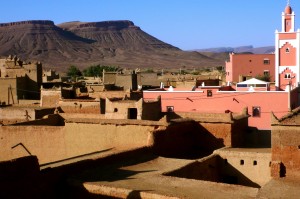 Ait Ouzzine, Berber Village
A visit to the Draa Valley is not complete without experiencing an afternoon or a Moroccan lunch with a Berber family.  Just 5 kilometers after Nkob, another Sahara and Draa Valley town, one can find a famous village called Ait Ouzzine (the nice village). Ait Ouzzine is nestled within the Middle Atlas Mountains. Aït Ouzzine is a Berber village inhabited by over 300 families who live in beautifully painted crenulated Kasbahs, with their own henna fields, water wells, livestock and gardens. This peaceful village is tucked away along an impressive desert route connecting the Draa Valley (Tansikht) and Rissani. On a Draa Valley tour travelers can meet a Berber family, partake in a cooking lesson of how to make traditional bread and a tajine. This unique experience includes waalking in the green fields and see how the traditional Berbers live with their gardens of herbs, livestock, and henna plants.
For an in-depth experience, Moroccan travelers can have lunch in Ait Ouzzine. An example menu would include a traditional meal of fresh baked bread with spices and a chicken and vegetable tajine and fresh local fruits for desert. Compliments of the Berbers guests who travel the Draa Valley region can end their visit with a Henna party or if visiting during the month of October, they can participate in date selection and date picking in the Draa Valley.
For more information about a Draa Valley  Tours
For More Information About Travel and Tours to Morocco plus highlights on Moroccan culture visit 
Morocco's Imperial Cities
, 
Seaside Resorts
,
Sahara Desert
, 
Berber villages
, 
A Taste of Morocco
, 
Magical Kasbahs, Ruins & Waterfalls
, 
Absolute Morocco
, The Best of 
Marrakech
, 
Fes
, and 
Ouarzazate
Travel Exploration specializes in
 Morocco Travel.
We provide Tours and travel opportunities to Morocco for the independent traveler and tailor-made tours for families and groups with a distinctly unique flavor. From Morocco's Seven Imperial Cities, to the Magical Sahara Travel Exploration offers a captivating experience that will inspire you. At Travel Exploration we guarantee that you will discover the best of Morocco! Call Travel Exploration at 1 (800) 787-8806 or + 1 (212) 618882681 and let's book a tour to Morocco for you today.