Moroccan Street Food is a great way to discover Morocco's local culture.  While the best Moroccan food is said to be found in a Moroccan home, very reasonably priced  street food is available in small stalls and roadside cafés all over Morocco. Eating Moroccan Street Food in the old medina of Fes, Marrakech and Essaouira allows for a great opportunity to meet Moroccans during breakfast, lunch and dinner or just for a snack. Moroccan Street Food is also the best way to discover local Moroccan fresh foods that are well cooked and full of flavor.
For breakfast small stands provide an array of pancakes like  beghrir (spongy bread, a bit like crumpets), harsha (buttery bread made of fine semolina) and rghaif (flaky, layered flat bread). Topped with honey or goat cheese, they make a good breakfast  snack with oven baked bread called Khobz.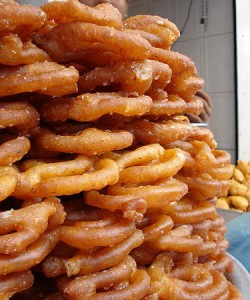 During Ramadan you can break the fast at Iftar around 7 pm as the sun goes down with dates and the delicious tomato paste soup harira with chebakia, which are flower-shaped cookies soaked in honey and sprinkled with sesame seeds. Moroccan soups are hearty fare to be savored at any time including bessara which is fava bean soup with oven baked khobz, small eateries serve it for lunch with lemon-infused olive oil and a sprinkle of cumin and chili. Stalls selling steaming vats of snail soup are popular throughout Morocco. You pick the snails out of their shells with a toothpick and then drink the broth which is served with a concoction of spice which Moroccans believe is good for  a fever and aids digestion. hssoua belboua is barley soup with milk. It combines barley grits with milk to yield a rich, creamy soup that's both nutritious and satisfying.  There is also Semolina  soup with milk, anise seeds and honey.
The overpowering smoke rising from various eateries on the Djemma el Fna at night is from brochettes of chicken , lamb or beef. The meat is rubbed with salt and spices, such as paprika and cumin. Spiced ground lamb or beef (kefta) is impaled on a skewer and grilled. Brochettes are served with khobz, harissa (red pepper sauce), red onion, cumin and  salt. Other delicacies, not for the faint hearted, include sheep's heads which have been steamed for five hours sold as either a half or a whole head with or without eyes. During the Islamic festival of Eid al-Adha (Feast of the Sacrifice) sheep are slaughtered by the head of the family. It is a reminder that meat tends to be a delicacy. You see sheep being born home in cars, on bicycles, mopeds and any vehicle that can be utilized for the purpose. A whole sheep's carcass will last for a month. Also served are  calves' livers, crumbed and fried. You can also sample camel burgers, Café Clock in Fes serves it as a speciality of the house.
In many coastal towns sardines are served with stuffed with a spicy chermoula paste made of tomato, coriander, chili, garlic, paprika, cumin, olive oil and lemon juice. They are coated in a light batter, fried until crisp and often served with a fried green chili.
Vegetarians can enjoy sliced aubergine dipped in sweet smoked paprika batter and deep fried or spicy lubia (white haricot beans stewed in tomatoes, cumin, paprika, garlic and ginger) or fresh salad. Moroccan farmers produce the best quality organically grown vegetables.
You will also find sweet pastries,biscuits and cookies  in abundance especially during Ramadan as sugar is an important source of energy, diabetics do have to beware. However seasonal fruits are also served.
Makrout with Dates and Honey is another special occasion sweet which is popular in Ramadan. A mild date paste is enclosed in a log of semolina dough, then the  cookies are sliced, fried and dipped in honey.  There are baked Moroccan Tea Biscuits known as fekkas scented with orange-flower water. Try   m'hanncha, called "snake cake" for its concentric circles.
Another favorite is triangular or cylindrical phyllo briouats. Briouats, are pan-fried to golden perfection. Some are savory, stuffed with fresh cheese and finished with a drizzle of honey, while others are sweet, filled with crushed almonds, sugar, and spices. Almond Briouats are made by folding almond paste flavored with orange flower water and cinnamon within warqa dough. The pastries are fried and then soaked briefly in honey.  Cheese briouats are served with cream cheese filling. Herbs or hot peppers can be added for more flavor.
Sellou is a  Moroccan sweet  served during Ramadan made from toasted sesames, fried almonds and flour that has been browned in the oven.
For More Information about a Fes Food Tour of Moroccan Street Food
Morocco's Imperial Cities, Seaside Resorts,Sahara Desert,Berber villages, A Taste of Morocco, Magical Kasbahs, Ruins & Waterfalls, Absolute Morocco, The Best of Marrakech, Fes, and Ouarzazate
Travel Exploration specializes in
Morocco Travel.
  We provide Tours and travel opportunities to Morocco for the independent traveler and tailor-made tours for families and groups with a distinctly unique flavor. From Morocco's Seven Imperial Cities, to the Magical Sahara Travel Exploration offers a captivating experience that will inspire you. At Travel Exploration we guarantee that you will discover the best of Morocco! Call Travel Exploration at 1 (800) 787-8806 or + 1 (212) 618882681 and let's book a tour to Morocco for you today.