Morocco's ancient city of Fes (Fez) was Morocco's first imperial capital. Fes was established and developed by Idris I – founder of the Kingdom of Morocco and credited with the Islamization of the country – and his son, Idris II. More than a millennium later, it remains Morocco's spiritual heart. In some parts of the ancient medina, little has changed since mediaeval times. As such, the ancient palaces, Koranic schools and gardens make magical settings for two key festivals in the Fassi year: the Fes Festival of World Sacred Music (22-30 May 2015) and the Fes Festival of Sufi Culture (18-25 April 2015).
Sufism is typically defined as the mystical dimension of Islam and is such is often opposed by the followers of more conservative or literal Islamic philosophy. Many Sufis, however, maintain that the spiritual essence of Sufism transcends and pre-dates religions.
Sufis typically live and worship in orders or brotherhoods gathered around a Master, such as the famous Gnaoua of Morocco, or the Mevlevi Order of Turkey known for their whirling dervishes. Unlike mainstream Muslims, who believe that their communion is directly with Allah (God) through prayer with the purpose of bringing themselves closer to God in Paradise, Sufis believe that spiritual practice (such as charitable acts and self-discipline) can bring them closer to Allah in this life and that they can communicate with Him via certain practices in addition to prayer (eg song, dance, trance, whirling or others).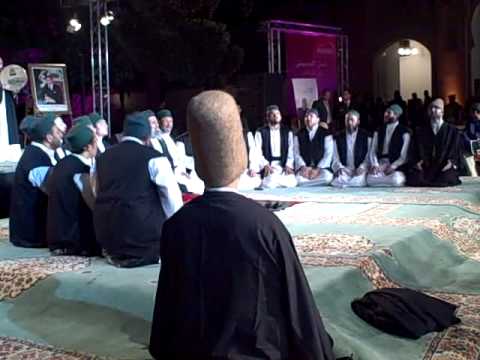 This practice of meditating on God through a focus, for example on repetitive beats or dancing is known as samaa. This is said to bring forth a person's love of God and purify the soul. The aim is to reach a trance-like state of ecstasy which is hoped to lead to deeper spiritual knowledge.
The 2015 Fes Festival of Sufi Culture is the 9th edition. Under the banner "The Religion of Love", the festival will celebrate the life and work of renowned Sufi scholar, Rumi. Jalaladdin Muhammad Rumi was a 13th century Persian poet, jurist, Islamic scholar, theologian, and Sufi mystic. He was the inspiration for the creation of the Mevlevi Order, which practices samaa through music set to Rumi's poems and whirling. At this year's Fes Festival, here are several round table events and performances dedicated to discussion of Rumi's work and the Mevlevi. The Festival will also make tribute to Rabiaa al Adawiya (Rabiaa el Basri), who was an 8th century female Muslim saint and Sufi mystic from Basra, Iraq.
The Sufi Culture Festival also draws on indigenous Moroccan cultural and spiritual traditions, featuring Sufi Amazigh culture and poetry and the musical traditions of al Andalous, the Moorish Empire of the Middle Ages.
Sufism is an open, welcoming aspect of modern Islam and is more accessible in Morocco to non-Muslim audiences through Festivals, spiritual practices and the zawiyas (homes of the brotherhoods) than mainstream Islam whose mosques and cemeteries are typically closed to visitors. Whether your interest is in music, poetry, dance, religion or spiritual aspects of Sufism, the emphasis of the Sufis and of the 2015 Fes Festival of Sufi Culture on love is powerful and appealing. This year's Fes Festival of Sufi Culture is promises to be a stimulating and inspirational event!
PROGRAM OF FESTIVAL OF SUFI CULTURE & MUSIC APRIL 2015
Saturday 18  April 16.00
Opening ceremony General introduction by Faouzi Skali followed by a musical and artistic moment. 
20.30 Concert : Mystic recital dedicated to Rabiaa al Adawiya 
Sunday 19 April10.00 Round Table and poetic readings. « Tribute to Abdelwahhab Meddeb: Sufi moments ».
16.00 Round Tables: "Is there a revival of Sufism in the Muslim world?"
20.30 Samaa of the Tariqa Boutchichiyya  Qadiriyya ( Morocco).
Monday 20 April 10.00 Round Table: 'Persian Mystical Poetry and the Message of Love'
Hossein Gomshei Discussion led by Faouzi Skali with Hossein Gomshei, Leonard Lewisohn, and Alan Williams
16.00 Round Table: 'Rumi and the Mevlevi: Poetry of Ecstasy and Love in Persian and Turkish' Leonard Lewisohn, Alan Williams, and Roderick Grierson Discussion led by Faouzi Skali with Leonard Lewisohn, Alan Williams, and Roderick Grierson
20.30 Concert:  'Aşkın Sesi: The Voice of Love'  :  Mevlevi music for the ney:  Kudsi Erguner.
Tuesday 21 April
10.00 Round Table: 'Rumi and the Legacy of Persian Music' Jane Lewisohn (with recordings)
Discussion led by Faouzi Skali with Jane Lewisohn, Leonard Lewisohn, and Hossein Gomshei
16.00 Round Table: '"Listen to This Ney": Music of the Mevlevi Kudsi Erguner
(with recordings and live performance) 'Visions of the Mevlevi: Eastern and Western Depictions of Semazens'
Roderick Grierson (with illustrations) Discussion led by Roderick Grieson with Kudsi Erguner and Faouzi Skali
20.30  Samaa of the Tariqa Khalwatiyya :  Chaykh Nur Allah Fath ( Turkey).
Wednesday 22 April
10.00 Round Table: « The scriptural foundations of the Religion of the Love ».
16.00 Round Table: « Presence of  Rabiaa » .
20.30 First part : Samaa of the Tariqa Rifaiyya ( Turkey) Second part: Samaa of the  Tariqa Naqchbandiyya (Bosnia). 
Thursday 23 April 10.00 Round Table: « Sufi Amazigh culture and poetry »
16.00 Round Table: « Bards of the spiritual Love of East and West ».
20.30 Samaa of the Tariqa Charqawiyya and of the Tariqa Wazzaniyya.
Friday 24 April 10.00 Round Table: « Writings and poems about spiritual love in Morocco and Andalousia  » .
16.00 Round Table: « Culture and expressions of spiritual love in Sub-Saharan Africa  » .
20.30 First part: Samaa  of the Tariqa Siqilliyya Second part: Sufi singings of Alep: Homage to Jalaleddine Weiss
Saturday 25 April 10.00 Round Table: « Love and Futuwwa,  the path of the Spiritual Chivalry » .
20.30 Sufi Samaa and  Andalusian Music. Conferenciers Lecturers ( alphabétique order ) :
Abdelillah Arafa, Abdou Hafidi, Abdellah Ouazzani, Abdussamad Romero,
Alan Williams Bariza Khiari, Eric Geoffroy, Hossein Gomshei, Ines Safi, Jaafar Kansoussi, Jane Lewisohn, Katia et Gabrielle Legeret,  Kudsi Erguner, Lila Anvar, Leonard Lewisohn,  Michael Barry, Michel Boivin, Mounir El Kadiri, Roderick Grierson, Saad El Khiari, Saïda Bennani, Salamatou Sow, Souada Maoulainine, Suad El Hakim, Touria et Layla Iqbal, Xavier Guerrand-Hermès.
Written by Lynn Sheppard 
Lynn Sheppard has lived in Essaouira, on Morocco's Atlantic Coast for more than 2 years, supporting local non-profits, writing and becoming an expert on all things Swiri (ie. Essaouiran). She blogs at Maroc-phile.com and for other travel industry clients.
For more information about the Fes Sufi Festival or a Fes Tour 
Morocco's Imperial Cities, Seaside Resorts,Sahara Desert,Berber villages, A Taste of Morocco, Magical Kasbahs, Ruins & Waterfalls, Absolute Morocco, The Best of Marrakech, Fes, and Ouarzazate
Travel Exploration specializes in
 Morocco Travel. 
 We provide Tours and travel opportunities to Morocco for the independent traveler and tailor-made tours for families and groups with a distinctly unique flavor. From Morocco's Seven Imperial Cities, to the Magical Sahara Travel Exploration offers a captivating experience that will inspire you. At Travel Exploration we guarantee that you will discover the best of Morocco! Call Travel Exploration at 1 (800) 787-8806 or + 1 (212) 618882681 and let's book a tour to Morocco for you today.
Tags: Faouzi Skali, Fes, Fes Sufi Music Festival, Fes Tour, Morocco Travel, Sufi Culture Festival, Sufi Music, Tours to Morocco, Travel Exploration