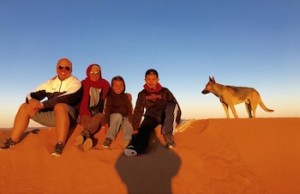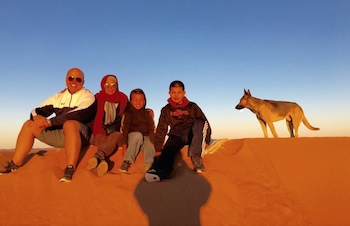 Morocco Family Vacation, Sahara Desert Adventure, Photograph by Rusk Elatassi
Morocco is the perfect country to travel for families who are considering a place to visit for spring break. A Morocco family vacation  during spring break guarantees a great adventure and an insightful cultural experience for families with children of all ages. Morocco is a kid friendly destination. Morocco's expansive landscapes provide a wide array of adventure travel opportunities for families such as hiking, biking, trekking, camel trekking, zip lining, eating, surfing and swimming. Morocco's temperate climate year-round makes it easy for families with a limited time frame who are traveling from the USA and Europe to reach. Morocco is just 7 1/2 hours from New York's John F Kennedy Airport,  a 3 1/2 hour Easy jet stretch from Paris and an 1 hour from Madrid via Iberia Airlines. Families in search of a child-friendly destination need to look no further then Morocco.
On a Morocco family vacation, parents can anticipate a jam-packed travel itinerary that includes a mix of site seeing in ancient cities, exploration of the souks and marketplaces, visiting magical gardens and UNESCO Heritage sites, seeing wild monkeys and barbary apes in Ifrane's cedar forest, hiking across High Atlas Mountains and through Berber Villages, Sipping Tea with a Berber Family, participating in private family henna party and watching the snake charmers at sunset in Marrakech's Djemaa el Fna Square. A Morocco family adventure vacation is not complete without traveling in a four-wheel drive across the Moroccan Sahara Desert and a 1001 Arabian Nights Morocco experience in the heart of the Erg Chebbi dunes at a traditional desert camp.
Perhaps one of the best surprises of all during a Morocco family vacation is the opportunity to enjoy stays at charming boutique riads that are well appointed in the old city bustling medinas with maze-like streets, colorful alley ways filled with craftsman, street food vendors, gardens, Islamic architecture,  and terraces with dream-like city scapes.
The best time to travel to Morocco for a family vacation is March and April along with October, November, and December. Spring break, Easter holiday, Thanksgiving, and Christmas are when Morocco's weather is extremely temperate and local festivities and adventure tie in with school schedules.
The 5 Best Adventure Activites on a Morocco Family Vacation are: 
Family Vacation in Morocco – Adventure Tour Highlights
Zip line across the Atlas Mountains
Camel Trek in the Sahara Desert
Hot Air Balloon over Marrakech
Bread bake with a Berber family
Attend a traditional Fantasia Horse show in the Marrakech Palmeraie
For more information about the Family Vacations in Morocco and Family Adventure Tours
Morocco's Imperial Cities, Seaside Resorts,Sahara Desert,Berber villages, A Taste of Morocco, Magical Kasbahs, Ruins & Waterfalls, Absolute Morocco, The Best of Marrakech, Fes, and Ouarzazate
Travel Exploration specializes in
Morocco Travel.
We provide Tours and travel opportunities to Morocco for the independent traveler and tailor-made tours for families and groups with a distinctly unique flavor. From Morocco's Seven Imperial Cities, to the Magical Sahara Travel Exploration offers a captivating experience that will inspire you. At Travel Exploration we guarantee that you will discover the best of Morocco! Call Travel Exploration at 1 (800) 787-8806 or + 1 (212) 618882681 and let's book a tour to Morocco for you today.
Tags: Berber Villages, Camel Trekking, Canyoning, Erg Chebbi Dunes, FamilyTours Morocco Adventure Tours Morocco, Hot Air Balloon, Moroccan bread baking, Moroccan Henna Party, Morocco Holiday Activities, Morocco Vacations & Tours, Sahara Desert, Ziplining