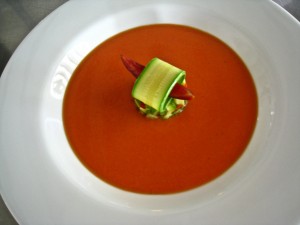 Fes, Dar Roumana, Tomato gazpacho courgette and chilli salsa
Fes is the culinary and cultural capital of Morocco. The world famous Fes Sacred Music Festival takes place 7-15 June and  Dar Roumana's restaurant at 30 Derb el Amer Zkak, Roumane in Fes Medina  will be open every day offering pre-concert dinners from 6pm – 8pm Dar Roumana will be offering a smaller menu (2 starters, 2 mains and 2 desserts) for a reduced price of 300dh for three courses or 225dh for two courses.  For those not attending the festival Dar Roumana's usual dinner service will continue as normal from 7.30pm – 9pm. It is essential to book well beforehand during this busy period in Fes. Dinner is served in the patio and on the Dar Roumana terrace with spectacular views of the Fes medina and includes varied delicacies such as roasted  beetroot, orange, mint and feta salad, spiced roasted quail with dried fruit orzo, moroccan fishcakes with cucumber and radish ribbon salad and sweet harissa dipping sauce, baked chicken thighs with honey, hazelnut and saffron with carrot and cumin mash.
The garden restaurant attached to Riad Idrissy at  13 Derb Idrissi, Sieje, Sidi Ahmed Chaoui, is set in the romantic remains of a crumbling riad which has been turned into a delightful garden, with mosaic floors, fountains and exotic foliage. Lunch is prepared using fresh produce from the souk and includes salads – such as zaalouk (smoky aubergine, tomato and paprika puree) and tfaya (chickpeas, onions, raisins and cinnamon) – and street food, cooked to order in the garden, such as sardines marinated in chermoula (garlic, paprika, cumin, olive oil and lemon juice) with a polenta batter and makuda, spiced battered potato cakes. Afternoon tea is a blend of English and Moroccan, including tea made from homegrown mint and wormwood. After 7pm, the Fes garden is open for dinner by prior arrangement only, offering mechoui lamb (anything from a leg to a whole animal) cooked for seven hours over charcoal, Sephardic suppers and Roman banquets. The ruined garden at Riad Idrissy  will operate as a festival green room – where artists, journalists and the audience can mingle between  the Fes Sacred Music Festival concerts. Opening hours are between 12 noon and 9.30pm. There is also the great boon of no background music.
Another  great  lunch  and dinner venue is  Palais Amani at 12 Derb el Miter, Oued Zhoune.This imposing Art Deco former palace has superb gardens Is known for excellent high class Moroccan cuisine and you can dine in the restaurant or the patio, booking is essential.
La Maison Bleue, reservations  also necessary at this elegant riad restaurant. The setting is intimate and romantic, with diners serenaded by an oud player (replaced by livelier Gnawa song and dance at the end of the evening). You'll be treated to an array of cooked salads, tajines, couscous and bastilla (savoury pastries), plus filo pastry desserts.
Restaurant Zagora  just of the Southern end  of  Mohammed V in the  Ville Nouvelle, this high class restaurant is popular with tour groups and locals alike. The wine list is probably the most extensive in the ville nouvelle and the menu includes international and Moroccan dishes and you get to be serenaded by a musician playing an oudh .
The Majestic is close to the Royal Tennis Club et El Merja and the Marjane shopping centre offers refined upscale French cuisine and an excellent wine list.
At Dar El Ghalia, a restored 18th century palace you will find  Dar Tajine, one of the best known restaurants in Fes. You can choose from set menus or à la carte: there are salads, excellent Harira, grills, fresh fish, tagines and couscous.
Chez Vittorio  is in  the rustic Italian restaurant angle well, right down to the candles and checked cloths. The food is good value, Go for the pizzas or steak and enjoy the wine.
Dar Anebar  is a riad you can dine in fne surroundings, in the splendid courtyard, or one of the cosy salons. The menu is strictly Moroccan, but of the highest standard, and wine is available.
Palais Jamaï is a five-star hotel has a superb position overlooking the medina. There's a French restaurant and a Moroccan restaurant. At lunch they serve a good buffet on the terrace above the pool (or in the dining room in winter): there's the salad buffet, or the salad buffet with barbecue and dessert.
Fes is truly international and Kiotori restaurant  offers  sushi with a Japanese chef.
Café Clock is a restored town house  and is an important  and highly original cultural centre which offers a varied  menu with offerings such as falafel, grilled sandwiches, some interesting vegetarian options, a  substantial  camel burger, and delicious cakes and tarts. It is open right through the day into the evening so you can eat whenever you want.
Fez Café is set in a fine garden  in Le Jardin des Biehn, Dinner is available both before and after  and during concerts.
Le Kasbah restaurant is on several floors at Bab Bou Jeloud, and occupies a prime spot: the top floor looks out over the medina, making it a good place to relax over food. The menu is traditional Moroccan fare, tajines, couscous and grilled meat.
Fes is famed for its street food and probably the most well known establishment is Thami's at Bou Jeloud, 50 Serrajine  in the Medina. It  is highly recommended by the website "The View from Fez." They recommend Thami's  kefta  tagine with egg, the melange and the fish. Fes has many such small establishments and a visit to the vegetable  and spices souks  will enrich your knowledge and appreciation of Moroccan daily life and the variety of its cuisine even in very simple establishments.
For More Information on a Fes Tour, Fes Food or Fes Street Food 
Morocco's Imperial Cities, Seaside Resorts,Sahara Desert,Berber villages, A Taste of Morocco, Magical Kasbahs, Ruins & Waterfalls, Absolute Morocco, The Best of Marrakech, Fes, and Ouarzazate
Travel Exploration specializes in
 Morocco Travel.
We provide Tours and travel opportunities to Morocco for the independent traveler and tailor-made tours for families and groups with a distinctly unique flavor. From Morocco's Seven Imperial Cities, to the Magical Sahara Travel Exploration offers a captivating experience that will inspire you. At Travel Exploration we guarantee that you will discover the best of Morocco! Call Travel Exploration at 1 (800) 787-8806 or + 1 (212) 618882681 and let's book a tour to Morocco for you today.