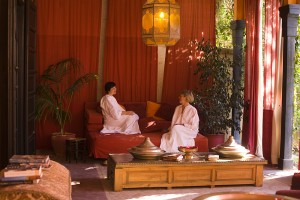 Visit Marrakech, Morocco for an exclusive, luxury women only retreat package September 8th – 14th, 2012. Morocco's Harem retreat was founded by Sandra Zwollo, a long time resident of Marrakech and passionate believer in women's well being.
On the Outskirts of the fabled Red City of Marrakech, Harem promises to pamper its guests like no Sultan ever could. Covered in Russian Vogue, Elle Italy, German Architectural Digest, the New York Times and the Chicago Tribune as one or Marrakech's most unique and original travel experiences Harem is the premiere Marrakech retreat package for women only. This Marrakech retreat package is ideal for single women traveling alone or for friends who want to share a women's Marrakech retreat experience together.
Don't miss out on this "new ladies only retreat in Marrakech that will take care of any pampering needs" -Vanity Fair England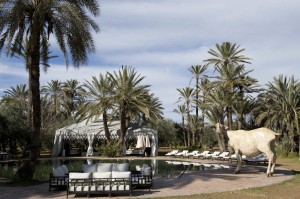 The Harem Concept – Harem is a luxurious retreat, exclusively for women longing to reinvigorate the body, mind and soul. At the Marrakech Harem Retreat there are no obligations, no restrictions, no demands, no complexes, and no guilt…since eighty per cent of our profits go to a local charity. Harem promises to restore natural rhythms in an environment that is both luxurious and inspiring.
Harem's Guests – Our guests are women who have demanding careers, challenging studies, busy households, or often all three. They want to rediscover their femininity and strive for a healthy, sensual, balanced life. They have a taste for luxury, but they are also committed to improving the world around them.
Harem's Venue – Harem retreats are held on a sprawling twenty four-acre private property with stunning landscaped grounds. The secluded estate is filled with imaginative touches and is designed to give guests complete privacy and freedom.
Marrakech Harem's Special 7 Day/ 6 Night package includes:
–       Room and board, including daily wine tasting and English high tea
–       Two private hammams with scrub and body mask
–       Two full body massages
–       Daily footbaths, scalp – foot massages and facial masks
–       Daily yoga and meditation classes
–       Private sessions with our chef/nutritionist
–       An oriental henna session
–       The use of our gym, yoga room, mountain bikes, tennis court and library
–       A private tour of the Contemporary Art Collection and 2 installation houses
–       An excursion into the Marrakech Souks with a private guide
–       Transportation to and from the Marrakech airport
Cuisine at Harem:
Harem's chef has carefully composed Harem's menus to give you samples of a light organic cuisine, coupled with Chinese Food Therapy and color themes. She always uses the best of local produce, often grown in our own gardens and her recipes are deliciously varied and healthy. Guests are surprised with seasonal flower tastings and she loves to serve a variety of inventive infusions and herbal teas. Our chef, or one of her assistants will be on call during your entire stay and will be available for Nutritional consultation.
Book Today For Morocco's Harem Retreat- September 8th – 14th, 2012
Special Package Rate – 1995 Euros for single occupancy and 1695 Euros p.p. on a double occupancy basis.
Reservations: alecia@travel-exploraiton.com or Toll Free 1800-787-8806 or visit www.harem-escape.com
For more information about Harem Retreat Package in Marrakech & Marrakech Tours 
For More Information About Travel and Tours to Morocco plus highlights on Moroccan culture visit Morocco's Imperial Cities, Seaside Resorts,Sahara Desert, Berber villages, A Taste of Morocco, Magical Kasbahs, Ruins & Waterfalls, Absolute Morocco, The Best of Marrakech, Fes, and Ouarzazate
Travel Exploration specializes in 
Morocco Travel.
We provide Tours and travel opportunities to Morocco for the independent traveler and tailor-made tours for families and groups with a distinctly unique flavor. From Morocco's Seven Imperial Cities, to the Magical Sahara Travel Exploration offers a captivating experience that will inspire you. At Travel Exploration we guarantee that you will discover the best of Morocco! Call Travel Exploration at 1 (800) 787-8806 or + 1 (212) 618882681and let's book a tour to Morocco for you today.
Morocco Harem Retreat Package, Marrakech Harem Retreat, Sandra Zwollo, Harem Marrakech, Marrakech, Vanity Fair England, Harem Escape, Sandra Zwollo, Marrakech Tours, Tours to Morocco, Morocco Vacations, Travel Exploration, Morocco Travel