The Art of Moroccan Pottery & Zellij Tile Design, Your Morocco Travel Guide
If you are an artist, a fan of international fine art and pottery or an educator then traveling to Morocco to discover the Moroccan Art of Pottery & Zellij Tile Design is for you. Morocco is historically known for its Moroccan tradition of zellij tile design and hand thrown pottery. Zellij tile is elegant and also decorative as it has a richness of color and pattern. Zellij is the art of hand cut geometric and miomorphic mosaic design. This is one of the highest forms of artistic expression in Moroccan culture and the Islamic world. In the recent years, zellij tile has inspired interior designers and gained momentum as an international design trend. Morocccan Zellij tile contains many layers of meaning artistically and scientifically that can be found in its repetitive mathematical patterns.
The art of zellij flourished during the Hispano-Moresque period and then appeared in Morocco in the 10th century with nuances of varied white and earth toned colors. The art of zellij remained very limited until Morocco's Merinid Dynasty. zellij then gained further important in the 14th century. Then in the 17th century shades of cobalt blue, emerald green and bright yellow were introduced. Older enamels and natural colors started to be utilized in the 20th century. The cities to travel to in Morocco that remain the center of Zellij tile art are Fes and Meknes. The Dar Batha Museum in Fes, the Najarine fountain and the Bab Boujloud Gate are Fes' a few of the most important sites where traditional Moroccan zellij tile art can be seen. A Morocco Travel tour for the purpose to study Zellij Tile Design at the Fes Pottery Cooperative and explore other areas where this art still flourishes in Morocco such as Meknes, Rabat, Marrakech, Tangier and Volubilis is a must for those who have a penchant for this kind of incredible tile work.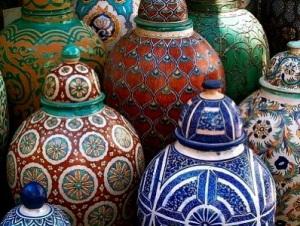 Along with zellij tile is Morocco's famous tradition of pottery. The pottery produced in Morocco is for both practical and artistic purposes. Some of Morocco's finest pottery is produced in the region of Zagora, within the Sahara Desert in a small town called Tamagroute. Tamagroute is one of Morocco's most famous towns that has become known for a unique kind of pottery, forrest green in color, rugged and whose glaze is made from the henna plant. Pottery from Tamagroute is baked in the sun after it is thrown and takes between 1-2 days to dry. Other regions known for their pottery in Morocco are Fes, Safi and Marrkaech. Safi is often referred to as the pottery capital. While this quaint seaside city is less frequently traveled by tourists, it is a beautiful place for Moroccan travelers to visit  and Safi produces an enormous  range of pottery that is often sold throughout other Imperial Cities in Morocco.
For more information about Moroccan Art of Pottery & Zellij Tile Design
For more information about Travel and Tours to Morocco plus highlights on Moroccan culture visit Morocco's Imperial Cities, Seaside Resorts,Sahara Desert, Berber villages, A Taste of Morocco, Magical Kasbahs, Ruins & Waterfalls, Absolute Morocco, The Best of Marrakech, Fes, andOuarzazate.
Moroccan Pottery & Zellij Tile Design, Zellij Tile in Morocco, Pottery in Morocco. Travel to Morocco Study Zellij Tile Design, Travel to Morocco Study Pottery, Pottery of Fes, Pottery of Zagora, Zellij Tile of Fes, Zellij Tile of Meknes, Morocco Travel, Tours to Morocco, Morocco Vacations, Morocco Holidays

Travel Exploration specializes in Morocco Travel. We provide Tours and travel opportunities to Morocco for the independent traveler and tailor-made tours for families and groups with a distinctly unique flavor. From Morocco's Seven Imperial Cities, to the Magical Sahara Travel Exploration offers a captivating experience that will inspire you. At Travel Exploration we guarantee that you will discover the best of Morocco! Google on call Travel Exploration at 1 (800) 787-8806 or 1 (917)703-2078 or (212) 661-4898-960 and let's book a tour to Morocco for you today.