Upon first sight of the Moroccan Sahara Desert, one can wonder if it is a grain of utopia or perhaps a miracle created by god. For those who are not believers then let's just say that one must, in their lifetime have tea in the Sahara. The Sahara desert is itself a character in The Sheltering Sky a novel written by the prolific writer and composer Paul Bowles. For centuries explorers have been seeking to discover the Moroccan Sahara. Almost a century ago, a young administrator in the British Colonial Service decided to take 1,500-mile adventure trek across an ancient, deadly slave route in Africa's Sahara desert. Hanns Vischer then published a book about this British Colonial's journey, across the Sahara desert and went on to become one of the most famed explorers of his era.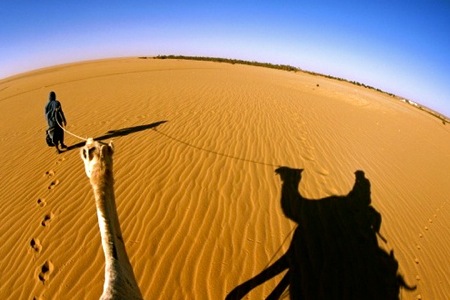 The Sahara desert is in the Zagora region of Morocco and extends far into Algeria and across North Africa. Its border has been controversial for years with the Saharawi's screaming for their independence. Recently Aminatou Haidar, a Saharwi woman and human rights activiest of El-Aajun, the capital of Morocco's Western Sahara Desert held a hunger strike.
Morocco's Sahara desert has been the curiosity of foreigners and a penchant to be traveled in on camel trek, landrover and 4×4. Whether you have only 5 days in Morocco, one week in Morocco or vacation time of two-weeks in Morocco, a trekking adventure to the Sahara desert is a life changing experience.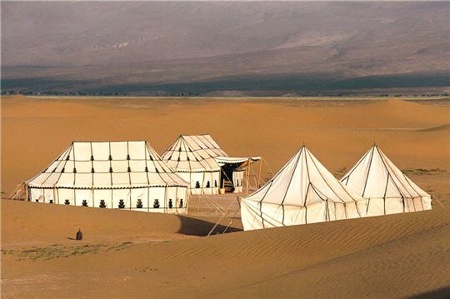 Beginning a tour from Ouarzazate, the door to the Sahara desert is truly the best use of time and offers an easy trip with less time spend in a 4×4 to the Sahara. When visiting the Sahara desert from Ouarzazate, it is advised to first take time to see the Kasbahs of Ouarzazate, Ait Benhaddou and Kasbah Taouirt, it's famous CLA Atlas Film Studios, the Oasis of Fint and then head to discover the Skoura palmary and spend a night at a majestic traditional Moroccan Riad that overlooks the palmary of Skoura with the backdrop of Mount Mgoun. If one continues their journey fully then Zagora would be the next stop and even visiting a Berber family in the High Atlas Mountains that bridge between the Sahara. A Sahara Dream journey should also include a visit to Merzouga's Erg Chebbi dunes. The Erg Chebbi Dunes rise across the Sahara in heaps and their golden, delicately woven granules that lay their quietly offer peace to those who watch them from sunrise to sunset or trek by camel across them at dawn or dusk.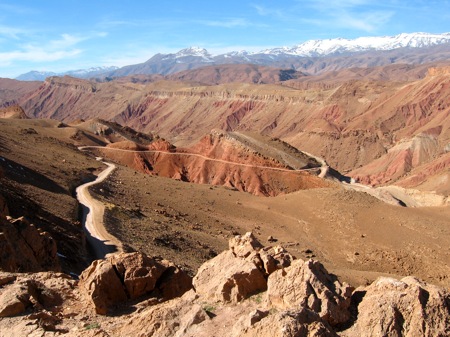 MOROCCO SAHARA DESERT DREAM TOUR – TEA IN THE SAHARA
DAY 1: OUARZAZATE
►Reception at the airport and transfer to your hotel. After breakfast and relaxing at your hotel, visit Kasbah Taouirt.
►Kasbah Taouirt was built by the Glaoui. Its location was strategic for trading routes and in the 1930's when the Glaoui ruled the South it was then one of Morocco's largest Kasbahs. Explore its nooks and crannies and discover some local female painters who sell their art inside as well as the many quality silver shops just steps outside the Kasbah.
►After visiting Kasbah Taouirt, return to your hotel in Ouarzazate for a relaxing afternoon by the pool or ask your guide about an extending your tour to the souk. At the souk you will have the opportunity to take in the smells of local spices such as Cumin, Saffron and Cinnamon as well as Berber amber and musk while visiting small caftan and Moroccan Baboosh (shoe) shops.
►Dinner at your Moroccan Riad in Ouarzaztae or the option to enjoy couscous or a tajine at a local restaurant in Ouarzazate's city center.
DAY 2: OUARZAZATE – ATLAS FILM STUDIO – AIT BENHADDOU – OASIS OF FINT
►Fill up on a savory breakfast of baguette, fresh fruit, jams and a café cassis (Moroccan cappuccino) at a local pâtisserie and then begin your one-day excursion to Atlas Film Studios, Aït Benhaddou & the Oasis of Fint.
►Start your morning by touring the Atlas Film Studios. David Lean filmed Lawrence of Arabia at The Atlas Film Studios in the early 1960's. Since then many famous directors have followed in his footsteps to exploit the magnificent scenery. International blockbusters shot here in recent years include: the French version of Cleopatra, Bertolucci's Sheltering Sky, Scorsese's Kundun, Gillies MacKannon's Hideous Kinky, Ridley Scott's Gladiator, Black Hawke Down, Oliver Stone's Alexander The Great, Ridley Scott's Kingdom of Heaven, and Penelope Cruz's Sahara.
►After visiting the Atlas Film Studio, we will take the road by pise to the picturesque village of Aït Benhaddou located 32 km from Ouarzazate. Aït Benhaddou is situated in Souss-Massa-Draâ on a hill along the Ouarzazate River. Lawrence of Arabia was filmed here and Orson Welles used it as a location for Sodome and Gomorrah; and for Jesus of Nazareth the whole lower part of the village was rebuilt. In recent years more controlled restoration has been carried out under UNESCO auspices. Aït Benhaddou is one of many locations in this region used for shooting Hollywood films.
►Your guide will lead you on a private tour through this Berber village of towered and crenulated kasbahs that once guarded the lucrative caravan route through the Atlas Mountains. Explore the kasbahs by foot with the option to ride a donkey across a river.
► Your guide will share the fascinating history of Aït Benhaddou which once served as the former caravan route between the Sahara and Marrakesh in present-day Morocco. Most of the town's inhabitants now live in a more modern village at the other side of the river; ten families however still live within the ksar.
►Aït Benhaddou was once a significant stop for traders carrying gold, salt and slaves along the famous Southern Caravan route moving through the Sahara. Only six miles away, is the village of Tamdaght, dominated by the canyon walls of a Glaoui Kasbah. The Kasbah is famous and you will find its towers inhabited by storks. Walk outside the Kasbah's lush terraced gardens and witness the same desert scenery that used in Gladiator and Alexander the Great.
►For lunch, relax on a terrace with clear views of Aït Benhaddou and enjoy a traditional Moroccan meal. After lunch, browse the village shops then climb back in the comfortable air-conditioned/heated 4×4 and head to the village of Tamadaght.
►Depart Aït Benhaddou and take the pise (windy road) towards the Oasis of Fint passing the "Plateau de pierres". On this road you will find a shining Oasis of palms. Visit this Oasis of Fint that hovers under the Atlas Mountains. Journey on a one-hour walk inside the Oasis  where you will have a cup of tea with the headmaster's family Azziz Ouaziz. Then tour the surrounding area where date palm oases and dramatic desert scenery is king.
►After visiting the Oasis of Fint we will take the road to Kasbah Tifoultoute which stands majestically on the banks of Oued Tifoultoute. From a distance this old Kasbah is impressive with its castle-like architecture. In the 1960's the Kasbah was converted into a hotel for the cast of Lawrence of Arabia. Tour the Kasbah and have lunch at its restaurant which is known for delicious mint and herb teas. See panoramic views from the rooftop.
DAY 3:  OUARZAZATE – ERFOUND – MERZOUGA
►Rise early, and drive to Merzouga passing the unusual flora and fauna of the Sahara. Cross Erfoud, the capital of fossils.
►You will find the Erg Chebbi Dunes at 22 km long, (North-South) 5 km and 150 meters high. Considered by many to be the largest dunes in the Sahara, the dunes constantly shift due to the considerable desert winds. The locals believe that these dunes were sent as a punishment for turning away a weary traveler from the desert. They say that after they sent away this traveler, the gods made the dunes pile up right outside their town; to teach them a lesson and to never send away weary men and women ever again.
►Have dinner and spend the night in the Sahara in a biouvac tent by the Erg Chebbi dunes.
DAY 4: MERZOUGA – N'KOB
►Rise early. Your camels await you for a trip across the Erg Chebbi Dunes.
►You will be taken on a 2 hour cruise on the back of a dromedary into the dunes to camp overnight at an oasis. Your Tuareg guide will share some of the Sahara Deserts' secrets. As you glide across humpback on these silent, mystical dunes there will be countless opportunities to photograph the endless rolling sand dunes that appear before you in heaps for thousands of miles. You will witness the sunrise across the east over the dunes.
►You will Upon return from your trek, enjoy a quiet breakfast and then continue your adventure within the Sahara desert.
►Depart Merzouga and ride across the palm groves to visit the ksours along the kasbah studded road to Rissani. The 19th century Abbar Ksar, once a residence to Alounite princes and the Oulad Abdelhamin Ksar, built for the brother of Sultan Moulay Hassan, is popular to visit. Also interesting to see is the Mausoleum of Moulay Ali Cherif where the father of the founder of the Alouite Dynasty is buried.
►We will arrive to Rissani, an ancient capital for the Alaouite Sultans and the most important market town for Sub-Sahara camel caravans was built on the ruins of Sijilmassa. Stop in Rissani for a lunch and visit its souks where stalls are piled high with pyramids of dates, vegetables, spices, rugs, carpets, pottery, jewelry and metalwork.
►The Rissani souk is one of the most famous in the area and surrounded by donkeys, mules, sheep and goats enclosed in corrals. After a tour of Rissani, we are off to Alnif. Alnif is known for its rocks, fossils and minerals found in shops along the roadside Trilobites are the areas main export.
►Pass by Alnif and head towards to N'kob. Dinner will be served to you in Aït Ouzzine by a traditional Berber family. The menu will include a traditional meal of fresh baked bread with spices and a chicken and vegetable tajine and fresh local fruits for desert.
►After dinner, sip mint tea and rest at the local Riad Ksar Jenna. Ksar Jenna is a beautiful Maison de Charme in a riad style, built with the materials of the Moroccan tradition such as taddelakt and zellig. Ksar Jenna has wide open spaces, 7 rooms with every comfort, with large bathrooms and large common spaces, plunged in an oasis of quiet, in the heart of a luxuriant garden, with lots of palm trees, bougainvilleas, rose bushes, jasmines.
DAY 5:  N'KOB  –  ZAGORA – OUARZAZATE
►Have breakfast and then drive to Zagora for your one-day excursion to this quiet Saharian desert town.
► Zagora is a Saharan desert town in the southern Drâa Valley. Zagora is favored by travelers for its desert dunes, palms, 45 varieties of dates and its Hollywood sunset mountain backdrops. Take the road by pise (windy road) to discover the land where caravans once transported sugar, tea, dates and other dry goods to Ouarzazate.
►Walk the palmery and hamlet set amid lemon, almond and olive trees, and gardens of the village of Amazrou. Visit the former Mellah (Jewish quarter), where a mosque now stands. Amazrou is inhabited by Arabs, Haratines and Berbers who continue the Jewish tradition of silver making.
►Later visit the Dunes of Tinfo, which are famous for their healing qualities for rheumatoid arthritis. Ask your guide to bury you in the sand from head to toe for this a 20 minute spa-like experience. We will also visit the old Kasbah Ait Lkaid in the village of Tamegroute. At the end of the main road you will find the famous road sign to Timbuktu that reads "52 jours" – 52 hours by camel.
►Enjoy lunch at a local kasbah hotel restaurant in the town of Zagora then return to Ouarzazate.
►Upon return to Ouarzazate we will take the road to visit Zagora's unique, beautifully glazed forest green pottery at the local cooperative in the desert town of Tamagroute and pass by the Koranic library.
►Arrive in Ouarzazate, have tea or a drink at a local hotel with views of Kasbah Tifiltoute, then dine at a local restaurant and spend the night at a Riad in Ouarzazate.
DAY 6:  OUARZAZATE
►Departure from Ouarzazate. This ends your Morocco Travel experience.
For More information about Sahara Desert Short Breaks & Excursions to Morocco on Travel Exploration
For more information about Travel and Tours to Morocco plus highlights on Moroccan culture visit Morocco's Imperial Cities, Seaside Resorts, Sahara Desert, Berber villages, A Taste of Morocco, Magical Kasbahs, Ruins & Waterfalls, Absolute Morocco, The Best of Marrakech, Fes, and Ouarzazate.
Sahara Desert Tours, Sahara Desert Dream Tour, Desert Dream, Short Breaks to the Sahara, Atlas Film Studios, Ouarzazate Hollywood of Morocco, Ait Benhaddou Kasbah, Tour of Southern Morocco, M'hamid Dunes Sahara Desert, Erg Chegaga Dunes, Zagora Dunes of Tinfo, Tea in the Sahara, Camel Trek, Sahara Tours to Ouarzazate, Sahara Tours to Zagora, 5 Days in Morocco, Sahara Tours 4×4, 4×4 Morocco, 4×4 Sahara Tours from Ouarzazate, Sahara Atlas Tours, Morocco Travel, Tours to Morocco, Morocco Vacations, Morocco Holidays
Travel Exploration specializes in Morocco Travel. We provide Tours and travel opportunities to Morocco for the independent traveler and tailor-made tours for families and groups with a distinctly unique flavor. From Morocco's Seven Imperial Cities, to the Magical Sahara Travel Exploration offers a captivating experience that will inspire you. At Travel Exploration we guarantee that you will discover the best of Morocco! Call Travel Exploration at 1 (800) 787-8806  or 1 (917)703-2078  and let's book a tour to Morocco for you today.