Up Close: Vacation in Marrakech, Fes, & A Berber Village, Come Travel to Morocco With Us.
Traveling to Morocco guarantees one of the best vacation experiences of a lifetime. The people of Morocco are extremely hospitable and will guarantee a comfortable and fascinating travel adventure from the moment you step foot in the Maghreb. Moroccans by nature are open minded and willing to engage in conversation of all sorts. The current King Mohamed VI has made a political and social effort to ensure that Morocco is not seen as just another Muslim country. The Kingdom of Morocco, al-Mamlaka al-Maġribiyya, (in Arabic) has evolved immensely during previous years and is THE place to travel. Morocco has a rich agricultural tradition with it being a primary source for jobs and survival for the Moroccan people, especially the Berbers in the South and Atlas Mountain regions. It is also a country of cataclysmic beauty and contradiction. Morocco offers the widest variety of landscape and adventure for its size. Morocco has something for every one who desires a real Morocco Travel experience. From lush waterfalls at the foot of Cascades D'Ouzoud to a dry, mystical Sahara, a place to ski, Okamiden, just north of Marrakech and the seaside resorts of Agadir and Essaouira – Morocco Travel has it all.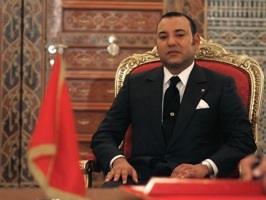 The mélange of Arabic speaking Moroccans with Berbers (85% of the population and the original inhabitants) along with the influx of foreigners ranging from French to British, Americans to Swiss has enabled this moderate Muslim country to continue the footprint it left years ago after King Hassan II turned away Hitler when he came for its Jews during WW II. The King told Hitler and his army that "Morocco had no Jews, only Moroccan citizens." The Maghreb owns a place in everyone's heart that has once traveled to this distant land filled with daunting sunrises and blazing pink sunsets. Morocco is a country where you can easily get lost – in yourself and in time. When traveling to Morocco it is important to consider a variety of tour options that enable you to discover the REAL Morocco.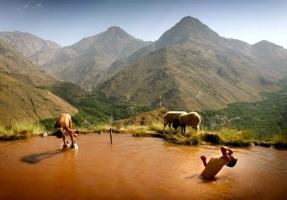 The Imperial city of Marrakech boasts gardens, palaces and souks, while the city of Fes lays claim to the oldest working medina in the world. When visiting Morocco, must see Imperial cities are Marrakech and Fes. Marrakech has an upbeat energy that will make your Moroccan travel exploration one of a kind. Fes will take you back centuries in time and invoke a feeling as if you have discovered the origins of man as he first began creating his craft. Fes is a UNESCO World Heritage site and one of the oldest working medinas in the world.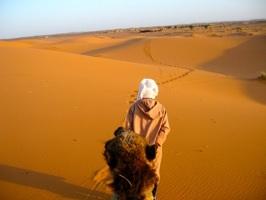 Traveling to the Sahara Desert of Merzouga, in Morocco promises one of the most striking mystical Moroccan travel journeys. With its deep teal blue skies at night and its range of starlit to desolate and quiet skies, the view above the Erg Chebbi dunes forces you to see for miles across the golden rolling hills of sand and engages your every sense. Another way to discover the real Morocco is spend a day visiting a Berber village, exploring its Kasbahs and local culture while having lunch with an old world Moroccan family. Eating couscous with the Berbers and learning about their nomadic, indigenous culture will leave you with a memorable Moroccan travel experience that you shall treasure forever. The Berbers are a zen-like group of people who, as Nomads, originally inhabited all of Morocco before the dynasties fell upon them and Islam swooped down to ask them to bow. The Berbers, highly motivated, intelligent and nomadic, were the mountain czars.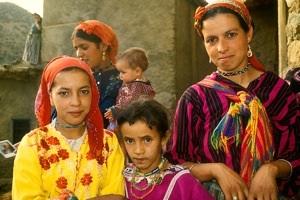 By rugged hand and through all seasons the Berbers worked in the fields by day and cooked by night while educating their children with the goal to preserve their ancient customs and spiritual traditions.Morocco, a land of Arabs, Berbers, Foreigners and a mélange of those who are Muslim, Jewish, Christian and Agnostic have lived together for centuries with the goal to encourage collaboration and the spirit of peace and hospitality. Even as Morocco and its King Mohamed VI are gradually becoming more Westernized the Kingdom of the Maghreb and it's people are fully alive, open to innovation, to evolving in effort to create a NEW Morocco. Moroccans however remain the same with their penchant for Moroccan food, craft, conversation, work and most of all an unconditional amount of genuine hospitality.
For more information about a Berber Village Cultural Tour
For more information about Travel and Tours to Morocco plus highlights on Moroccan culture visit Morocco's Imperial Cities, Seaside Resorts, Sahara Desert, Berber villages, A Taste of Morocco, Magical Kasbahs, Ruins & Waterfalls, Absolute Morocco, The Best of Marrakech, Fes, and Ouarzazate.
Vacation in Marrakech, Vacation in Fes, Berber Village Cultural Tour, Travel Erg Chebbi Dunes, Travel Merzouga, Travel Cascades D'Ouzoud, Travel Essaouria, Travel Agadir, Travel Okamiden, Morocco Travel, Tours to Morocco, Morocco Vacations, Morocco Holidays

Travel Exploration specializes in Morocco Travel. We provide Tours and travel opportunities to Morocco for the independent traveler and tailor-made tours for families and groups with a distinctly unique flavor. From Morocco's Seven Imperial Cities, to the Magical Sahara Travel Exploration offers a captivating experience that will inspire you. At Travel Exploration we guarantee that you will discover the best of Morocco! Google on call Travel Exploration at 1 (800) 787-8806 or 1 (917)703-2078 or (212) 661-4898-960 and let's book a tour to Morocco for you today.