Ouarzazate Travel Agency – Kasbahs & Kilims, Your Guide to Southern Morocco Travel & Sahara Desert Tours
Traveling to Morocco's Sahara region through a Ouarzazate Travel Agency guarantees an authentic Morocco Travel experience. When traveling to Morocco's Zagora region of Ouarzazate, the Draa Valley and the M'hamid Sahara Desert (Erg Chegaga Dunes) it is important to also have a Ouarzazate or Saharan driver and licensed guide who speaks fluent English, Arabic & French as well as the local dialect of Berber (Tashlhiyt).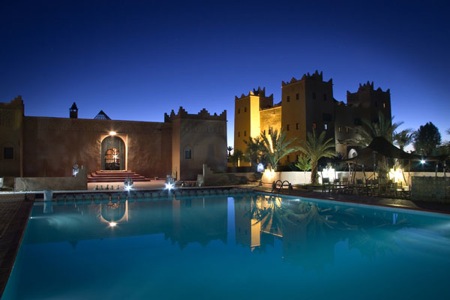 Kasbahs & Kilims are two genuine reasons to consider a short break to Morocco or a tailor made Private Morocco Tour. A Ouarzazate Travel Agency will be able to organize a seamless tour that enables you to discover the gems of Southern Morocco such as its ancient Kasbahs and Kilims. Southern Morocco's Ouarzazate region is known for its ancient Kasbahs and hand made Berber Kilims. For centuries Morocco has been a premiere travel destination for American explorers, literary writers, artists and composers such as Paul Bowles, Allen Ginsberg, Brion Gysin, Isabelle Ebrehardt, William S. Burroughs and Yves Saint Laurent.
Unlike other regions of Morocco both the Ouarzazate and Zagora region offer an untouched Morocco Travel journey that will enable you to engage up close with the Berber and Tuareg people. The Berber villages within the Draa Valley and Zagora region still retain their century-old traditions that makes for an attractive Morocco Travel cultural and enlightening educational experience. These Berber Villages are home to some of the most magnificent Kasbahs and High Atlas Mountain scenery. The century old Moroccan Kasbahs that once served as fortified villages to protect the Berbers now mainly serve as homes for their immediate and extended families.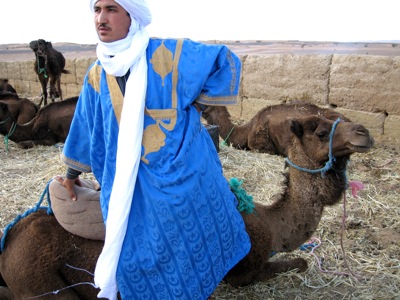 The Berber village experience is unlike another in Morocco. Spending a day with a Berber family in a traditional Moroccan village offers insight into how they live using ancient traditions that include baking bread by earthen oven, while using the wheat grown in locally in their fields and cooking couscous by candlelight. You can also witness how the henna plant is used to decorate the hands and feet of the Berbers in extraordinary beautiful patterns. Part of touring through a Ouarzazate Travel Agency also enables you to have your hands and feet hennaed while spending time in the village and partake in the other daily activities.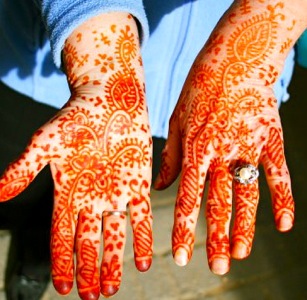 A Kasbah is referred to as a fortified village or a medina, Islamic city fortress. Traditionally Kasbahs is where local leaders lived and a Kasbah served as a defense when the city was under attack. Kasbahs high walls that are made of mud and earth typically have no windows. Kasbahs were traditionally built on top of a hill, which made them easier to defend however some were also built near the entrances of harbors. Having a Kasbah built was once a sign of wealth however almost all Moroccan cities, especially those in the Middle and High Atlas Mountain regions of Morocco had them as a necessity of survival. Today, Kasbahs in Morocco are often restored by foreigners and made into Raids, Bed & Breakfast style hotel accommodations or lived in by families. The Kasbah is by far one of the most charming and delightful forms of ancient architecture found in Morocco.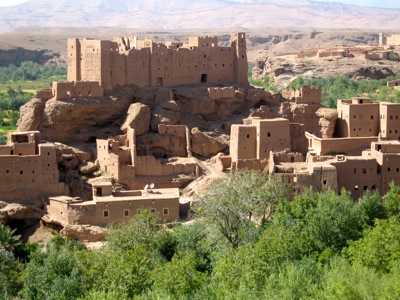 A Kilim is a flat tapestry, woven carpet or rug. In Morocco Kilims are often referred to more generally as Berber carpets and is another great reason to travel to Morocco through an Ouarzazate Travel Agency.
Southern Morocco's Ouarzazate and Zagora region are famous for Berber carpets and offer travelers the opportunity to see how they are made locally and purchase them directly from Berber villages or in local shops that have more reasonable prices then the big cities such as Marrakech and Fes. Berber carpets are essentially the "free trade" carpets of Morocco. Berber carpets are often used as prayer rugs as well as for covering concrete and tiled floors in Morocco today. When traveling to Morocco you can choose a Sahara region tour for a cultural trip and adventure or opt for one that allows you to Shop the Souks of Morocco!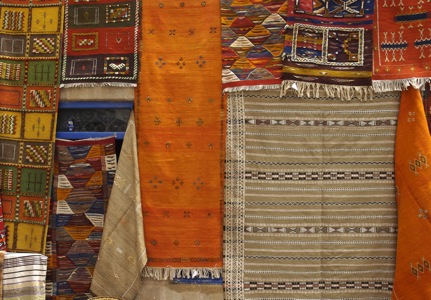 Here are the Top 10 Sites & Places to Visit When Traveling With a Ouarzazate Travel Agency In The Southern Morocco Region:
#1: Ait Benhaddou Kasbah
#2: Kasbah Taouirit
#3: Kasbah Tifoutltoute
#4: Oasis of Fint
#5: Atlas Film Studios
#6: Skoura Oasis & Palmary
#7: Dunes of Tinfo (Zagora)
#8: Dades Valley
#9: Todra Gorge
#10:  Valley of Roses
For more information about a Ouarzazate Travel Agency and to discover the Ouarzazate & Zagora region
For more information about Travel and Tours to Morocco plus highlights on Moroccan culture visit Morocco's Imperial Cities, Seaside Resorts,Sahara Desert, Berber villages, A Taste of Morocco, Magical Kasbahs, Ruins & Waterfalls, Absolute Morocco, The Best of Marrakech, Fes, and Ouarzazate.
Ouarzazate Travel Agency, Ouarzazate Kasbahs & Kilims, Sahara Desert Tours, Kasbahs in Southern Morocco, Berber Villages, Draa Valley, Tuareg people, Travel to M'hamid, Travel to Chegaga, Ouarzazate, Travel to Morocco for a Private Tailor Made Tour to Zagora, Berber Village Travel, Ait Benhaddou Kasbah, Oasis of Fint, Skoura, Skoura Palmary and Oasis, Dades Valley Tour, Todra Gorge Tour, Valley of Roses Tour, Morocco Travel, Tours to Morocco, Morocco Vacations, Morocco Holidays

Travel Exploration specializes in Morocco Travel. We provide Tours and travel opportunities to Morocco for the independent traveler and tailor-made tours for families and groups with a distinctly unique flavor. From Morocco's Seven Imperial Cities, to the Magical Sahara Travel Exploration offers a captivating experience that will inspire you. At Travel Exploration we guarantee that you will discover the best of Morocco! Google on call Travel Exploration at 1 (800) 787-8806 or 1 (917)703-2078 or (212) 661-4898-960 and let's book a tour to Morocco for you today.