Morocco Travel Update: King Mohammed VI Travels to Ouarzazate & US Secretary of State Hillary Clinton Travels to Marrakech, Your Morocco Travel Guide
Morocco Travel News, King Mohammed VI of Morocco visited the Ouarzazate region today, passing through the main street, Rue Mohammed VI. The King was in the Saharian town of Errachidia prior to his arrival in Ouarzazate. King Mohammed VI of Morocco's final destination for the day was his villa in The Royal Golf, juxtaposed near Lake El Mansour.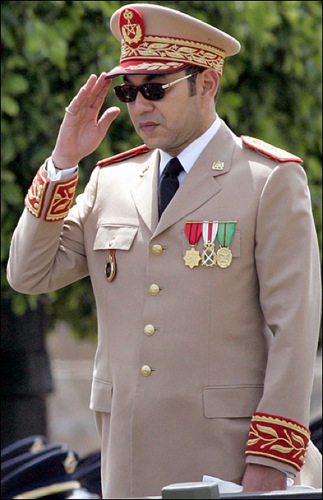 The Royal Golf borders Lake El Mansour, a lush, beautiful area just 20 kilometers outside Ouarzazate. Lake El Mansour is worth a visit on any Moroccan travelers vacation to the Ouarzazate region. There is a luxurious Moroccan modern Kasbah Hotel called the Royal Golf Sultana, owned by a lovely French couple (Veronique and her husband) who built this magnificent, palatial modern Kasbah overlooking Lake El Mansour. The Royal Golf Sultana is worth a one or two night stay during an Ouarzazate tour and an ideal place to relax.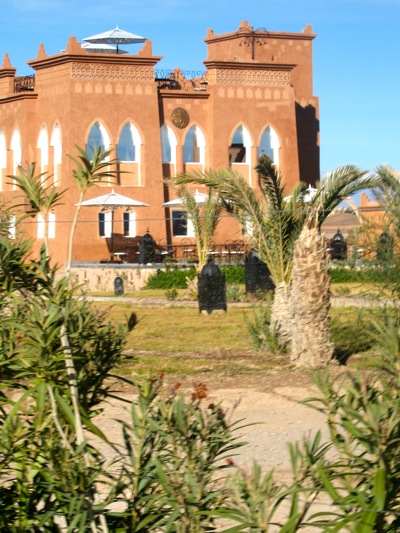 When traveling to the Ouarzazate region of Lake El Mansour one can feel like he/she is in Lugano on the Swiss, Italian border. Home to Ait Benhaddou Kasbah – a UNESCO World Heritage site, the Dades Valley, the Todra Gorge (Gorge of Todra), the Valley of Roses, the Skoura Palmary, and the Draa Valley by far any Moroccan traveler can discern that the Ouarzazate region offers many unlimited Morocco travel opportunities.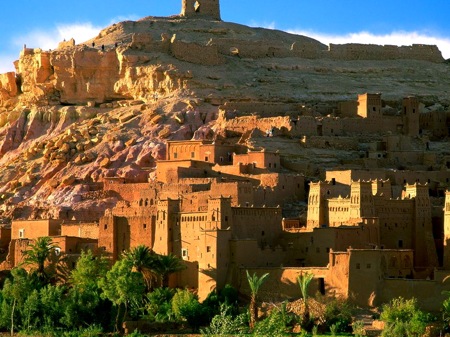 This day in also marked another set of Moroccan travel news. America and Morocco continue their celebration in good historical relations with Secretary of State Hillary Clinton's arrival in Marrakech, Morocco. Hillary Clinton's visit to Marrakech, Morocco makes this visit to the Maghreb the final leg of her twelve-day North African peace effort tour. Hillary Clinton's visit to Morocco is part of a diplomatic mission to relaunch the stalled Middle East peace process. Clinton's visit to Marrakech includes a visit on both Monday and Tuesday with her Arab counterparts attending the sixth Forum for the Future, jointly organized by Morocco and Italy. Clinton travelled to Morocco on Sunday after talks in the Middle East with Palestinian president Mahmoud Abbas and Israeli Prime Minister Benjamin Netanyahu. The United States is pushing hard for both sides to resume peace negotiations, which were suspended after the Israeli offensive against Hamas militants in the Gaza Strip in December 2008. The Middle East situation and furthering dialogue between the West and the Islamic world will be the two main themes at a dinner Forum on Monday evening. The Forum for the Future is a joint initiative between the Group of Eight industrial powers and some 20 countries in the Middle East and North Africa, along with the European Commission and the Arab League.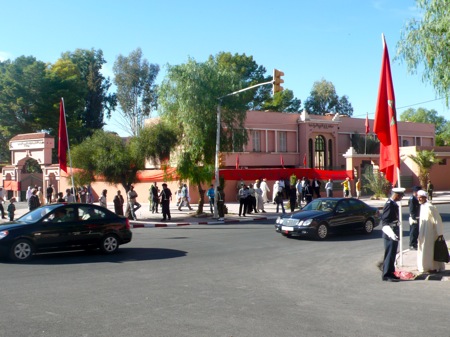 Hillary Clinton and her daughter, Chelsea visited the Sahara region in March 2009 for weekend camel-riding trip in the Sahara desert.The legend of Hillary Clinton in Morocco is a long one and according to African Travel Magazine, Hillary Clinton's family heritage is from Morocco.African Travel Magazine states, Hillary's grandfather, a Moroccan Jew living in Rissani, married an American woman, and then immigrated to the U.S.A."  According to the correspondent "Hillary Clinton visited her grandfather's home in Rissani and along with Morocco's King's sister Lalla Myriem visited the Mausoleum of Moulay Ali Chérif – forbidden to non-Muslims." "At the same time during this trip Hillary Clinton, she also visited her sister's daughter who is married to a Berber tourist guide and lives in the Atlas Mountains."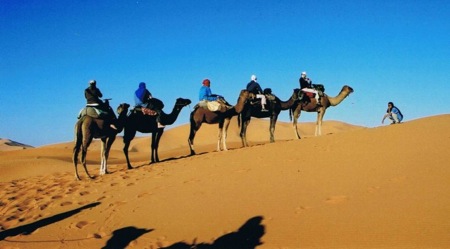 Morocco and the United States have a long history of friendly relations. As a North African nation Morocco was one of the first states to seek diplomatic relations with America. In 1777, Sultan Sidi Muhammad Ben Abdullah, considered one of the most progressive of the Barbary leaders who ruled Morocco from 1757 to 1790, announced his desire for friendship with the United States. The Sultan's overture was part of a new policy he was implementing as a result of his recognition of the need to establish peaceful relations with the Christian powers and his desire to establish trade as a basic source of revenue. Faced with serious economic and political difficulties, he was searching for a new method of governing which required changes in his economy. Instead of relying on a professional army to collect taxes and enforce his authority, he wanted to establish state-controlled maritime trade as a more reliable, and regular source of income, which would free him from dependency on the services of the standing army. The opening of his ports to the United States of America and other states was part of that new policy. The Sultan issued a declaration on December 20, 1777, announcing that all vessels sailing under the American flag could freely enter Moroccan ports. By issuing this declaration, Morocco became one of the first states to acknowledge publicly the independence of the American Republic.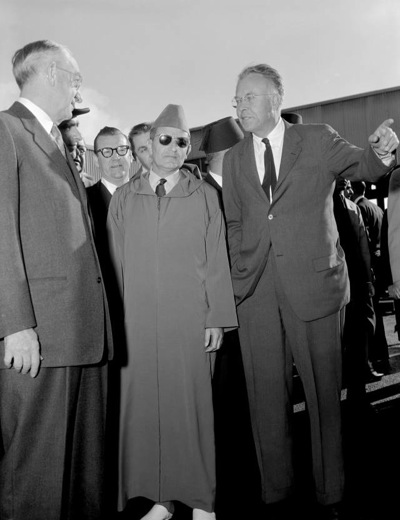 King Hassan II of Morocco, the father of King Mohammed VI has been considered by thousands of Israelis as "their" king. Many Moroccan Jews fled whom consider the king to be a direct descendent of the Muslim prophet Mohammad. 

 Hassan took power in 1961 after the death of his father, Mohammed V. When Hassan ascended to the throne, he was an unknown quantity with a reputation as a playboy. But ruling with a deft mixture of pro-Western democracy and traditional autocracy, he earned the respect of his people. He also survived several coup attempts.
Mohammed V was widely credited with having saved Morocco's Jews from deportation during World War II, and Hassan continued the philo-Semitic policies of his father. Although there was an outbreak of anti-Jewish incidents following the establishment of the state of Israel in 1948, the Jewish community was generally safe under the protection of both Mohammed V and Hassan II.
For more information about Morocco Travel to Ouarzazate
For more information about Travel and Tours to Morocco plus highlights on Moroccan culture visit Morocco's Imperial Cities, Seaside Resorts, Sahara Desert, Berber villages, A Taste of Morocco, Magical Kasbahs, Ruins & Waterfalls, Absolute Morocco, The Best of Marrakech, Fes, and Ouarzazate.
Morocco Travel Update, King Mohammed VI, Mohammed VI Travels to Ouarzazate, US Secretary of State Hillary Clinton Travels to Marrakech, Morocco, Ouarzazate Travel Opportunities, Lake El Mansour, Royal Golf Sultana, Ait Benhaddou Kasbah, Dades Valley, Draa Valley, Valley of Roses, Skoura Palmary, Todra Gorge, Morocco Travel, Tours to Morocco, Morocco Vacations, Morocco Holidays
Travel Exploration specializes in Morocco Travel. We provide Tours and travel opportunities to Morocco for the independent traveler and tailor-made tours for families and groups with a distinctly unique flavor. From Morocco's Seven Imperial Cities, to the Magical Sahara Travel Exploration offers a captivating experience that will inspire you. At Travel Exploration we guarantee that you will discover the best of Morocco! Call Travel Exploration at 1 (800) 787-8806  or 1 (917)703-2078  and let's book a tour to Morocco for you today