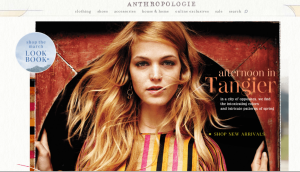 The global inspired American chain Anthropologie boasts a March 2014 Lookbook and new collection inspired by Morocco. Anthropologies' design team and models recently traveled to Tangier and the Blue washed city of Chefchaouen, nestled in the Riff Region, for a cultural and landscape photo shoot. This serves as an inspiration for those who wish to travel to Morocco or want to bring some Moroccan lifestyle pieces into their homes.
Anthropologie chose Tangier and Chefchaouen for their recent shoot having read the accounts of writers and expats who formed a community there in the 1950's. "In Tangier you have this beautiful light bouncing off the Straits of Gibraltar, along with an atmosphere of louche glamour," states Susy their Chief of Marketing.
Some of Travel Exploration's team's favorite shots from the March 2014 LookBook are featured here.
Anthropologie opened its first storefront in 1992. Since then this trendy, upmarket lifestyle chain has demonstrated an expertise and penchant for taking its audience of buyers on a visual extravaganza through eclectic and colorful designs. Anthropologie takes its audience off the beaten path and has a knack for combining quality with a fresh take on design.
Anthropologie has a captive audience and with its magnificent and fun products that are inspired by designer's far-flung journeys around the globe. This leading retailer has made an impact on the fashion market and emotionally appeals to those want to decorate and dress with global flair. Tribal, antique and various old world patterns can be found within the fabric of all products that Anthropologie sells.
By successfully creating a name for themselves in home furnishings, clothing, found objects, gifts and décor, Anthropologie products now resonate with a global audience of varied ages. Ikat, Suzanni, Batik, Berber and Victorian inspired designs are just a few influences on many of its home furnishings.
Having the Northern cities of Tangier and Chefchaouen part of Anthropologie's color palette for spring 2014 is a hallmark and compliment to Morocco. From ancient Tangier's winding medina streets to small cafes, tearooms, whitewashed rooftops along with the tiny back roads of Chefchaouen this March is a great time to get to discover Morocco!
For More Information about Tangier & Chefcahouen Travel
Morocco's Imperial Cities, Seaside Resorts,Sahara Desert,Berber villages, A Taste of Morocco, Magical Kasbahs, Ruins & Waterfalls, Absolute Morocco, The Best of Marrakech, Fes, and Ouarzazate
Travel Exploration specializes in
 Morocco Travel. 
 We provide Tours and travel opportunities to Morocco for the independent traveler and tailor-made tours for families and groups with a distinctly unique flavor. From Morocco's Seven Imperial Cities, to the Magical Sahara Travel Exploration offers a captivating experience that will inspire you. At Travel Exploration we guarantee that you will discover the best of Morocco! Call Travel Exploration at 1 (800) 787-8806 or + 1 (212) 618882681 and let's book a tour to Morocco for you today.