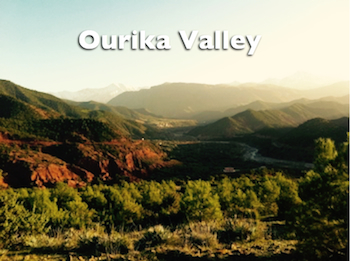 The bustling red terracota colored city of Marrakech is dotted with magnificent views of the High Atlas Mountains and surrounded by lush valley's and a desert-like palmeraie. Marrakech is the perfect city to use as a base for Day Trips. Often referred to as the Paris of Morocco, the city of Marrakech is well appointed in Morocco's south. Mararkech is just three hours from Morocco's Atlantic coast and the Essaouira Medina, an hour from the Ourika Valley and a full days drive from the Sahara Desert. Consider taking a one week holiday in Marrakech as to allow for these various Moroccan Day Trips.
Ourika Valley & Ait Ashok
A favorite weekend getaway for Marrakech's is the Ourika Valley. This quaint region is appeciated by locals for its valley's, streams and the seven Setti Fatma waterfalls. Ourika is perfect for long walks, hiking, visiting a Berber villages and is filled with palm tree plantations, fruit trees, tiny hamlets, summer homes and road side cafes. Travelers can enjoy tea and break bread with a Berber family on this day trip from Marrakech.
For those looking to experience off the beaten path Ourika consider exploring the charming Berber vilage of Ait Ashok. Nestled in a secret location inside the Ourika Valley and not frequented by many travelers, it offers unforgettable views, authentic encounters, and an unclose experience to meet local villagers of of Tizi Oucheg.
Ourigane Valley
Nestled in the High Atlas Mountains of Toubkal National Park, this region is a must see for travelers interested in a low key, non touristic day trip from Marrakech. Ourigane Valley is ideal for relaxing and hiking. It's various flora and fauna makes for the idea location to sip mint tea with a view. The Ourigane VAlley also home to one of Morocco's oldest Jewish Zaouia sites, the shrine of Rabbi Abraham Ben Hammou. Ourigane boasts fresh Atlas air and small properties for longer stays such as the classic La Roseraie famous for it's 30 hectares of rose gardens and stables and the new, contemporary Hotel L'Amandier.
High Atlas Toubkal & Imlil
The High Atlas Toubkal Mountains are the second highest in Africa second to Kilamanjaro and the highest peak in North Africa. Toubkal and the village of Imlil offer scenic activities for hikers on a day trip from Mararkech. A day hike at Mount Toubkal allows for trekkers to explore the region's varied peaks and have lunch in a Berber village or at Kasbah Toubkal with views. The village of Imlil is small and windy with local shops selling Berrber silver jewelry and Moroccan goods. Filled with street cafes and guests houses, Imlil is a good refuge for hikers.
Cascades D'Ouzoud Waterfalls
The Ouzoud falls, just a few hours from Marrakech boasts three tiered beautiful waterfalls and a lush valley. Ouzoud offers many trekking options. Visitors can take a wooden paddle boat trip at the bottom of the falls or a cold dip in the falls which makes for a charmed experience. Outdoor cafe stands conjure up the atmosphere with fresh cold orange juice and Moroccan snacks. A favorite of Marrakechi's, picnicing at Ouzoud is also popular in spring and summer months. For Morocco travelers who have more then a day trip from Marrakech available, an overnight stay can be arranged at a Berber guest house. The Berber guest houses in Ouzoud are secluded with spectacular views, local cuisine and Moroccan hospitlaity.
Oukaïmeden
Oukaïmeden is Africa's highest peak for skiiing and a Morocco premiere ski resort. Oukaïmeden village is perched on Jebel Attar and just an hour from Marrakech. Adventure seekers and skiiers can enjoy Oukaïmeden's windy slopes and chair lift to ferry them across the Atlas. Local cuisine is available at many of the Ski houses nearby, year round. Off season Oukaïmeden makes for the pefect getaway given its cooler temperatures and remote Atlas Mountain scenery. The region of Oukaïmeden is also known for its history of prehistoric rock carvings. The local musuem in Oukaïmeden provides more information on this and visitors can also explore with their Moroccan guide to discover rock carvings in the surrounding area.
Essaouira Medina
This former Portuguese fished village once called Mogador is just three hours from Marrakech located on Morocco's Atlantic Coast. Essaouira has lovely white washed and blue-shuttered houses that create a scenic backdrop of coastal romance. Essaouira's seaside medival medina offers mouth watering seafood, thuya workshops and art galleries. A hippy colony with chic restaurants that cater to foodies, Essaouira is ideal for contemporary gastro-fare and a great place to enjoy sunset cocktails. The Essaouira medina is only 8 kilometers from the Ounara winery and a Frommagerie where travelers can learn cheese making or enjoy a five course menu of cheese inspired dishes. The Essaouira medina as a Morocccan day trip from Marrakech is a layed back option for couples, small groups and families.
For More Information about Day Trips from Mararkech and Morocco Day Trips
Morocco's Imperial Cities, Seaside Resorts,Sahara Desert,Berber villages, A Taste of Morocco, Magical Kasbahs, Ruins & Waterfalls, Absolute Morocco, The Best of Marrakech, Fes, and Ouarzazate
Travel Exploration specializes in 
Morocco Travel.
We provide Tours and travel opportunities to Morocco for the independent traveler and tailor-made tours for families and groups with a distinctly unique flavor. From Morocco's Seven Imperial Cities, to the Magical Sahara Travel Exploration offers a captivating experience that will inspire you. At Travel Exploration we guarantee that you will discover the best of Morocco! Call Travel Exploration at 1 (800) 787-8806 or + 1 (212) 618882681 and let's book a tour to Morocco for you today.