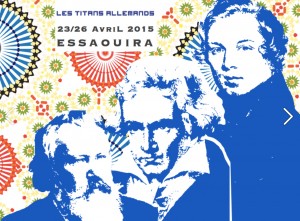 Every year in April, the Moroccan port city of Essaouira holds one of its many annual festivals. The Spring Festival is called the "Printemps Musical des Alizés" (the Musical Springtime of the Trade Winds). As well as featuring international and Moroccan artists of classical music genres, the festival celebrates the coming of Spring and the trade winds which have brought Essaouira its maritime fortune in past times. The festival in Essaouira also coincides with the Spring season of local religious festivals and pilgrimages of both the Muslim and Jewish faiths. In the local Moroccan Arabic dialect, such festivities are called moussem.
This year's 15th edition of the Alizés Festival takes place from 23 – 26 April 2015. The 2015 theme is "The German Titans". Visitors to Essaouira can expect great homage to the most famous German composers, primarily Beethoven, Brahms and Schumann. The nationally celebrated OPM-Moroccan Philharmonic Orchestra – under the baton of conductor Olivier Holt – will embody the titanic theme at their evening concerts on 24th and 25th April. At these two events the OPM will offer the audience the Double Concerto of Brahms and the Triple Concerto of Beethoven. The latter is due to feature soloists Marc Coppey (cello) and Ismael Margain (piano).
Schubert and Schumann get their airing at the hands and bows of Quatuor Hermès at the opening concert on 23rd April at 9pm. All graduates of Conservatoire National Supérieur de Musique in Lyon, Quatuor Hermès have been in residence at the Paris-based Singer-Polignac Foundation since 2013. L'Ensemble Des Equilibres will play tribute to Brahms in the stunning venue of Essaouira's Catholic Church on the 24th and 25th April.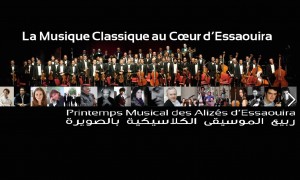 This does not mean to say that the Printemps Musical des Alizés by any means defines its classical music focus in a narrow sense. Although a graduate of the Conservatoire National Supérieur de Musique in Paris and known as a classical pianist, Margain is also a jazz musician with a talent of another era, so expect some surprises at his concerts on April 23rd and 25th. Expect also a tribute to Gershwin by the OPM with Edwin Fardini.
There will be further piano mastery from the Trio Suryana, known as "one of the most promising young trios with piano of recent years". Founded in 2009 at the Conservatoire de Paris, Trio Suryana have been artists in residence since September 2014 at the Queen Elisabeth Music Chapel in Belgium. Their concert is scheduled for 5pm on 25th April at Dar Souiri. On the same day, at the same venue, Fantaisie Toccata for 4 hands on piano will receive its first performance. The piece is a new creation specifically for this year's Festival by Moroccan-born composer, Graciane Finzi. Finzi has written for many genres and folk styles, but is noted for opera. The piece, interpreted in Essaouira by Joseph Birnbaum and Dina Bensaïd promises to be energetic and festive. Moroccan pianist Bensaïd took up piano aged 4 and has won many international accolades in her young career. She is a returning visitor to Essaouira. A further Finizi piece, Moments Interrompus, will be played by L'Ensemble Des Equilibres during their recitals at the church.
Opera also features on the Festival agenda with an interpretation of Puccini's Tosca by Fanyo Axelle and Louis Zaitoun. Continuing the theme of a broad interpretation of the festival brief, and as has been the case in previous years, the final concert will feature a tango recital. On Sunday 26th April, Respiro Tango will transport the audience across the Atlantic from Morocco to Argentina.
As with the other festivals through the Essaouira calendar (such as the Gnaoua Festival in summer and the Andalusian Festival in Fall), the activities are centered on Dar Souiri, a lovingly restored 18th century merchant's house and warehouse in the UNESCO-classified historical medina (old city) of Essaouira. Today, it is a cultural and community center and houses a library, meeting and exhibition space as well as being the home of several festivals. The events at Dar Souiri and elsewhere during the Alizés Festival are typically free, although it is worth arriving early to ensure a seat!
For the Complete Program Visit the Alizes Printemps Musical on Facebook 
Written by Lynn Sheppard 
Lynn Sheppard has lived in Essaouira, on Morocco's Atlantic Coast for more than 2 years, supporting local non-profits, writing and becoming an expert on all things Swiri (ie. Essaouiran). She blogs at Maroc-phile.com and for other travel industry clients.
For more information about the Alizes Festival or an Essaouira Tour 
Morocco's Imperial Cities, Seaside Resorts,Sahara Desert,Berber villages, A Taste of Morocco, Magical Kasbahs, Ruins & Waterfalls, Absolute Morocco, The Best of Marrakech, Fes, and Ouarzazate
Travel Exploration specializes in
 Morocco Travel. 
 We provide Tours and travel opportunities to Morocco for the independent traveler and tailor-made tours for families and groups with a distinctly unique flavor. From Morocco's Seven Imperial Cities, to the Magical Sahara Travel Exploration offers a captivating experience that will inspire you. At Travel Exploration we guarantee that you will discover the best of Morocco! Call Travel Exploration at 1 (800) 787-8806 or + 1 (212) 618882681 and let's book a tour to Morocco for you today.