Moroccans tend to be very accommodating, friendly and hospitable. It is no wonder why many hotels, riads and restaurants in Morocco specifically cater to guests providing them comfort, good service and a little pampering. Fes, one of the most cultural and spiritual cities in Morocco, has some of the most luxurious Hotels and Riads. Some of these upscale guesthouses include the Riad Dar Roumana, Riad Fes, Palais Jamai and Le Maison Bleue.
What's a Riad?
A riad is a very large traditional Moroccan home with architecture from the period of the Idrisid Dynasty. Riads commonly have rooms arranged around an interior garden or mosaic tile pool, with Arab style archways and detailed mosaics.
The Dar Roumana is unique for offering an exclusive cooking lesson for their guests. Cooking lessons are usually scheduled as one day sessions with a trip to the souk to buy fresh ingredients for the meal. Lessons are offered on Tuesdays and Fridays, in both English and French. To enhance your stay host will arrange or book a visit to the local hammam, tee time at the Royal Golf Course, and car rentals.
At the Riad Fes, guests can enjoy the Golf Escapade, with green fees that are included in the price of the stay. The Riad Fes also includes transfers to and from the airport, accommodation, green fees, transportation to the golf course, bed and breakfast, and guided visits and transportation. The riads royal suite is perfect for honeymooners looking for a romantic setting, with views of the garden and pool, and a private terrace overlooking the medina and Atlas Mountains. Rooms in the Riad Fes include a dressing area, bathrobes and slippers, a mini bar, fresh fruit, pastries and flowers.
At the Hotel Sofitel Fes Palais Jamai guests are encouraged to take advantage of a soothing massage at the spa, free access to the fitness center, or a buffet style breakfast. Guests can enjoy the restaurants international cuisine or barbecue on the pool terrace overlooking the medina.  The just after twilight the pool terrace has a a magical atmosphere with a horizon of city lights and towering palms.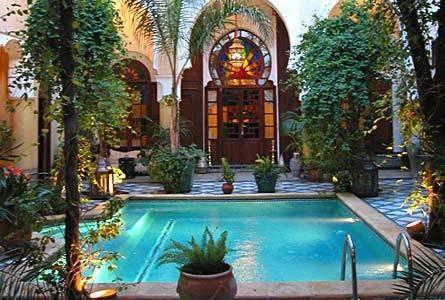 The Le Maison Bleue provides a quiet stay in the middle of the hectic city, with a rooftop terrace that overlooks Fes. Guests at the Le Maison Bleue are guaranteed to feel right at home as guest of a promanant Fassi family. The palace was home to Si Mohammed El Abbadi a famous astrologer, who left his intellectual touch on Le Maison Bleue. The riad features a rare and extensive library.

Travel Exploration specializes in Morocco Travel. We provide Tours and travel opportunities to Morocco for the independent traveler and tailor-made tours for families and groups with a distinctly unique flavor. From Morocco's Seven Imperial Cities, to the Magical Sahara Travel Exploration offers a captivating experience that will inspire you. At Travel Exploration we guarantee that you will discover the best of Morocco! Google on call Travel Exploration at 1800-787-8806 and let's book a tour to Morocco for you today.