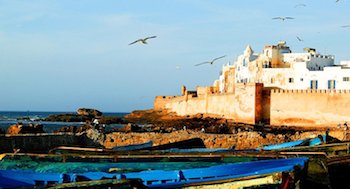 Essaouira, Portuguese Ramparts
Essaouira is the perfect excuse to head southwest of Marrakech to experience a one-of-a-kind coastal town in Morocco. Laid back with a hippy vibe, windswept Essaouira, also referred to as "old Mogador," attracts the Bohemian types searching for an inspiring destination where a keen combination of savory cuisine, local markets, artisans and seaside walks can be found. For the last century, Essaouira has attracted artists, writers, architects, and surfers, those with wanderlust along with retirees who came for a stop over and decided to make it their home. This charmed Moroccan town is the ideal travel destination for independent travelers interested in discovering the insiders guide to coastal living or those who desire a private Morocco Tour.
As a UNESCO World Heritage site, Essaouira's medina is surrounded majestic stonewalls. Its tranquility, sandscapes and diverse population have made it a trendy summer getaway. In the '60s and '70s, Essaouira was a pit stop on the hippie trek from Marrakesh. Jimi Hendrix made the pilgrimage, as did Bob Marley and Cat Stevens. Essaouira was the inspiration for Hendrix's song "Castles Made of Sand." Home to some of Morocco's best chefs, Essaouira's unique combination of tasty local fare, fresh produce, and delightful markets created a Moroccan hub where foodies congregate.
Whether you are visiting Essaouira on a one-day trip from Marrakech or as part of a Private Tailor-Made Morocco Tour this ancient city and it's white washed walls with painted cobalt blue shutters offers a wealth of history, old world architecture and culture that is not to be missed.
Essaouira's History Says It All
The medina of Essaouira is a UNESCO World Heritage listed city, an example of a late-18th century fortified town. Essaouira's history is a reminder of the times when Spain, Portugal and England fought to maintain control over its coasts. It has a typical Portuguese harbor that is a stunning example of Moorish and Portuguese architecture. Essaouira, originating from the Phoenician word Migdol meaning a "small fortress" was the first port in Morocco and once linked the country to the rest of the world. Since its foundation Essaouira has been known for its diverse ethnic groups of Amazighs, Arabs, Africans, and Europeans with a mix of Muslims, Christians and Jews.
Essaouira Things to Do – Top 10 and More…
The medina of Essaouira and its ramparts are the essential place to begin your exploration and as time allows an excursion to a local winery or a fromagerie is also highly recommended.
Visit Place Moulay Hassan Take a stroll along the town's sunlit pedestrian main square, Place Prince Moulay el Hassan and the Skala du Port, the fishing harbor, offers breathtaking views of the Portuguese ramparts. Explore the Portuguese ramparts and the spice souk, dozens of boutiques selling silver jewelry and the medina's clock tower.
Visit Orson Welles' Square and memorial, designed by Samir Mustapha, one of the towns artists, which pays homage to Orson Welles filming of Othello in Essouaria.
Thuya Workshops Indigenous to Essaouira is the Moroccan thuya tree. Only in this coastal town can travelers visit Skala de la Ville, also known as the woodworker's souks. Intricately designed thuya wood items can be found hand laid and inset ebony, walnut and citrus wood. There is a prior tradition of artists harvesting their own wood. Today this ancient tradition has been abandoned. Many artist cooperatives offer the option to design and command on order tables and other objects with thuya. Don't miss out on seeing how these small treasures are made.
Sidi Mohammed Ben Abdellah Musuem
This local historical and craft museum contains a wide variety of carpets, textiles, clothing, jewelry, metalwork, woodwork and historic photos. It is one of the few museums in Essaouira and definitely worth a visit.
Address: ‪Street Rue Laalouj‬
French Institute Part of a network of 12 institutes under the umbrella of the French Institutes in Morocco. While the French institutes aims to promote French language and culture it also offers concerts, cultural events, debates and exhibitions along with other cultural events. All are free of charge.
Address: 9 rue Med Diouri, Derb Laalouj
Local Attractions
Domaine Val d'Argan, Excursion to a Local Winery
In 1994 Charles Melia created this boutique winery using organic farming methods, just a few kilometers from Essaouira. The Val d'Argan wine tasting is a perfect afternoon excursion from Essaouira and consists of a combination of many elegant offerings. The wine tasting can include a peppering of reds, rose, whites and Moroccan Gris, all consumed with local cheeses or the option of Moroccan lunch. As the result of Val d'Argan, Southern Morocco offers a new vintage each year that make up the wide range created from The Gazelle of Mogador, El Mogador, the Val d'Argan and Orients of the Val d'Argan. Many of the wines made at Val d'Argan can be purchased and are also offered at local restaurants in Morocco. Book in advance!
Address: Ounagha Phone: +212 5247-83467
La Fromagerie
Located on Route Cotiere de Safi, just 8 kilometers from Essaouira is Abderrazzak Khoubbane's La Fromagerie. It is one of two fromageries in Morocco, the other being in the rural region of Fes. True to its name Abderrazzak runs a and farm to table restaurant with some of the best "cheese, cheese and more cheese." The menu is prefixed unless you request a la carte. It consists of local organic wine, home made lightly fried cheese for an appetizer with sides of minty fruit jellies, then a hardy vegetable fresh cheese salad along with a main of Moroccan grilled / smoked meat and upon request a vegetarian, cheese tajine. For desert, a wooden plank is served up with various types of goat, cow and camel cheese. More then a meal, this is an experience.
Address: R301, Phone: + 212 666-233534
Horseback Riding in Diabat or Essaouira Proper
For a side-excursion within Essaouira consider a visit at Ranch de Diabat, located in the small village Diabat. Ranch de Diabat arranges tours of high quality with camels or horses – and it can be for 2 hours or it can be for several days. If your preference is to stay in Essaouira proper consider Equivasion.
Address: Douar Diabat n°6 Phone: +212 662-297203
Cooking Class with a Local
Go local. Take a Cooking Class with Khadija's Kuzina. Explore authentic Moroccan at a private, home cooking class in Essaouira. Learn how to make the most delicious meal you will have in Morocco. You will be met by your local chef and experience an overview of Moroccan cuisine. Enjoy a medina walk to discover the spice market, the fish monger and the various kinds of local fresh produce available. Enjoy a demonstration of how Moroccan bread is made. Moroccan Meal Description: 
Prepare two Moroccan cooked salads, chicken and lemon tajine with preserved lemons and olives or pastilla, and fruit salad or pastilla with milk for desert. Participate in a Moroccan tea ceremony. Dine on the mouth-watering lunch that you prepared.
Jewish Essaouira, Where to Daven
Essaouira's population is approximately 70,000 with fewer then 25 Jews.
Visit the Essaouira Jewish Synagogue & Mellah: Jacky Kadoch is the president of Essaouira's Jewish community. Rabbi Chaim Pinto, the synagogue of the revered Pinto is located in Essaouira's medina within the Jewish Mellah. The building is an active synagogue, used when pilgrims or Jewish tour groups visit the city. The synagogue is on the second floor of a three-story, courtyard building inside the walls of the old city that also contained Rabbi Pinto's home and office. Essaouira's mellah covers over 10 percent of the town, but Jews constituted almost 40 percent of the population in the late 1880's. Jewish stars on the doors to the mellah show the degree to which Jews were accepted in Essaouira, to the point that some of the richer Jews did not even live in the mellah. Commemorative plaques indicate the buildings in which synagogues were located. Former inhabitants of Essaouira, most of them Jewish, formed a committee to rehabilitate the town. An important member of the committee is King Hassan II's Economic Advisor, Andre Azoulay. The Jewish cemetery, just outside the city gates, is extremely well kept. The hiloula of Chaim Pinto is held in September." Rabbi Chaim Pinto is buried there.
Sunset Cocktails
Taros
A great place for a pre or post dinner drink and to dine with views near to the sea. It caters to an International audience and has a full bar. Taros offer simple yet very tasteful dishes in a nice ambiance. The library of books on art, the small boutique and quality of music make having a meal here one of the perfect experiences for Essaouira.
Address: Place Moulay Hassan Phone: 212-524 47 64 07
Palais Heure Bleue
L'Heure Bleue Palais is built into the medina walls. This luxury boutique hotels is an oasis of calm and their piano bar with wrap around courtyard or rooftop terrace are ideal for sunset cocktails.
Address:Rue In Battouta Phone:+212 5247-83434
Ocean Vagbond
The perfect place for sunset cocktails this boutique restaurant and bar is laid back and oh so chic. The décor offers up a friendly reminder of being in Montauk. The Vagabond has a full view of the Atlantic along with horseback riders, camel trekkers and surfers who frequent the area. There is a sister property in Dakhla for those interested in heading down south.
Phone: +212-524-78-39-3
Le Chalet de La Plage
An Essaouira landmark this restaurant is on the seafront overlooking the beach. Ask for the daily fresh catch or their speciality of oysters, sea urnchins, prawns, squid or lobster. Add this to the list for sunset coctails with unobstructed ocean views.
Address: Blvd. Mohammed V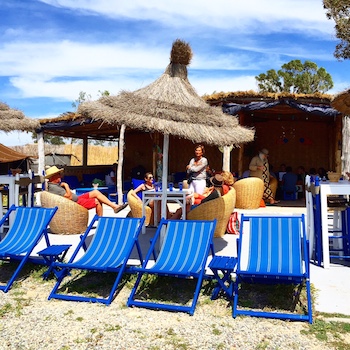 Essaouira Coastal Dining
Where to Eat
Umia
Ideally situated in Scala, the ramparts of Essaouira, Umia serves as the perfect stopover in the medina for lunch or dinner. The owner Bibi lends a hand to create unique dishes using local market products: Olive oils, Argan oil and Goat cheese. Umia's cuisine can best be defined as an mélange of the large Mediterranean Basin: Greece, Lebanon, Morocco, Italy, but also the international gastronomy with French cuisine, Japanese or Asian. The Menu varies each week. You can anticipate full course size. From fillet of beef in crust of herbs laminated, Papillote of Saint Jacques crèmes to the coriander, the tajine of monkfish in the juice of bouillabaisse, the mouse of candied lamb, calamari stuffed with chorizo … It is impossible to leave Umia without desert as the Amlou ice cream with molten chocolate cake and thousand sheets pen-caramel salted butter is divine. 
Address: 26 rue Scala
One-Up
The Former owner of Villa Del'O, Caroline and her Scottish partner have teamed up and created one of Essaouira chicest restaurants with contemporary chic decor and cuisine that well deserves a gold star for this excellent Moroccan table. One Up is a beautiful loft space and also the former British Consultate. The menu is selective offering a combination of French bistro's best from foie gras to salmon burger. Alike the decor the food is a work of art, made by a French chef with a wonderful twist. Exotic virgin cocktails are complimentary and the services is top notch. This is a relatively new restaurant and on the road to be one of Essaouira's best. One Up to this new venture.
Address: 1 Rue Laalouj Phone: 212-24-470-21-03
O'Bleue Mogador
Inspired by the cuisine of the south, Serge Peuzin launches a new challenge with his O'Bleu Mogador. Master Chef since 1997, this chief Marseillais, has always been at the head of institutions of high quality. The culinary influences of Serge Peuzin come from Italy, Spain, Lebanon, and Morocco. An address that he wants cozy and friendly, with a leader who opens in front of you in an open kitchen, a feast for the eyes and the taste buds. Bernadette, the wife of Serge, is part of the adventure and it is she who provides the reception of clients, manages the reservations and reign on the service in room. O'Blue Mogador's, fusion cuisine is surprising and unprecedented – full of flavors and surprises, which often changes and over the seasons, products from the market, of the fishing and the terroir. "Small tajines, casseroles, casseroles and delicacies" are on the list.
Address: 23 Rue Coubhentour
/ Phone: 212-52-47-83-133
La Moette Et Les Dromadaires
Located in Sidi Kaouki, with stunning views of the Atlantic, this boutique restaurant by the sea offers up a corner of paradise in coastal Essaouira. La Mouette et les Dromadarires (The Seagull and Camels), offers a wide array of seafood options and is the perfect lunch spot on a sunny or wind swept day. Just 30 minutes from Essaouira you can dine on plates of seafood carpaccio, tartar, smoked, crunchy, crispy, or simply grilled seafood on the plancha. For those who prefer the meat, try the grilled lamb chops or salad voile along with a gastronomic terrine. Oysters from Dakhla and fresh lobster are available upon request. The décor features chic Moroccan lounges perfectly situated under a Berber tent and comfortable sofas along with tables and sunbeds. All food is organic. Reservations required in advance. Don't miss this one!
Address: Plage de Sidi Kaouki Phone: +212-678 449 212
Chez Miloud
Known by locals as the best place to eat Msimen, a flaky pancake and Harira Soup, Chez Miloud is a must dine while in this coastal town. Owned and run by locals.
Breakfast Cafes
Patisserie Chez Driss
Called "Driss" for short by locals, this landmark, well appointed café is near to the entrance of Hassan Square. Ideal for breakfast or an afternoon coffee they offer a wide array of delightful Moroccan and French pastries, the typical Moroccan "nous-nous" (half coffee, half milk) and breakfast breads. The atmosphere is full of native and local Essaouira artwork.
Address: 10 rue El Hajjali, Essaouira‬
Saha Kfe
Run by the owners of Villa Maroc, this calm and chic café offers hearty breakfasts, light snacks and delicious salads. Their specialty is homemade, fresh ginger lemonade. Located on the corner of place de l'horlodge.
Address: Rue Abdellah Chefchaouni
Le Simoun
This tea lounge is located inside a five-story converted riad that overlooks sea along the Skala wall. It's laid back décor if teal blue accentuates the ocean and makes watching the seagulls that fly across in an eyes view picturesque. They offer wonderful deserts and coffees for those with a sweet tooth. With magnificent views of the sea from their second floor and terrace, there's no need to go elsewhere.
Address: ‪Medina D'essaouira, Rue Sqala, ‬
Where to Shop
Essaouira is one of the best shopping destinations in Morocco for those looking to sample traditional goods at reasonable prices in a laid back atmosphere.
Historie de Filles
Essaouira's leading concept store that has a unique blend of jewelry, clothing, decorative objects, and home design pieces with an east meets west trendy designs sensibility. The boutique also showcases hip brands such as Sissi Morocco, Moroccan Touch, Bakchic along with up and coming designers. The owners of Historie de Filles have a new space located just beside dedicated to the gastronomy of the kitchen. The items for sale range from utensils with the dishes of among Chabi chic, inspired by the traditional hand-painted terracotta of Safi.
Address: 1 rue Mohamed Ben Messaoud
Mashi Mushki
Meaning 'no problem' in Darija, Mashi Mushki is the place to stop for socially responsible shopping. This gallery/ shop sells a changing collection of jewelry, various handmade items including colorful scarves and the collection
of boucharouite carpets is quite extensive. And you can feel good about your shopping as 10% of the proceeds support Project 91, a UK-based charity that supports at-risk youth in Essaouira to improve their job and education prospects.
Address: 91 Rue Chbanat, Medina
Rafia Craft
Some of the best designed Rafia shoes and sandals woven with the doum palm can be found at this small, chic boutique located near Bab Marrakech in Essaouira. Rumor has it that the Italian designer, Salvatore Ferragamo teamed up with the owner long ago and uses this address and its rafia as inspiration and creation for some of his top end designs. Prices are higher then other local shops in town however the quality and comfort of Rafia Craft's footware cannot be surpasses.
Addresss: 82 rue d'Agadir, Bab Marrakech
Le Comptoir by Madada
An upstairs boutique across from the beach in Essaouira that has the feeling of an Oriental bizarre with a design showroom. There is a fine mix of vintage, chic and nomadic objects for sale. Sober and elegant this is a creation Madada Mogador's owner, Christine and her brother Pacha. There we learn the secrets of Moroccan specialties as the couscous, tagines the pastilla without forgetting the Moroccan pastries of course!
Address: 3 bis rue Youssef el Fassi 44 000 Essaouira
Phone: +212 524 47 55 12
Galerie AIDA
Joseph Sebag, many refer to as one of the last remaining Jews of Essaouira owns a charming bric-a-brac store located under the ramparts. It is filled with a melange items such as antique, silver Berber and Jewish jewelry, exotic dagers, other Souri finds along with English and French books. Sebag is worth meeting as he carries a wealth of Essaouira's Jewish History with him.
Address: 2 rue de la Skala
Phone: +212-524-47–62–90
Poupa Litza
Behind the unassuming door is a cavernous traditional douiria housing Litza Chemla's line of handbags and accessories. Locally made by hand, the collection also sells in Europe. It's worth a visit if only just to see the building
that houses the showroom and the wonderful boucherouite carpets that adorn the floor. The shop is closed from lunch daily from 12:30 to 2:30 p.m.
Address: 135 bis av. Mohamed el Qouri, Medina
Phone: +212 524 78 35 65
Joutiya Market
Essaouira's Sunday flea market filled with second-hand items, antique treasures and junk stalls. With views of the Coast this market where a rare gem can be found also has Native Swiri Artists that feature there naïve creations of art in self-decorated houses and small buildings.
Best Hammmam & Spas
One of the must-do experiences in coastal Essaouira is to spend a lazy afternoon at leisure in a traditional Moroccan Hammam. The Moroccan hammam begins with a traditional ritual of glazing the body with – ghassoul, a natural clay extracted from the Atlas Mountains, then black soap is applied on the body, made with local olive oil, prior to a body scrub with the final phase of rose or orange water sprayed lightly, made from the Atlas roses and used to calm the skin. Don't miss out on a Hammam experience at one of these Essaouira Luxury Spas.
Azur Spa
A spa in seaside Essaouira offering massages, hammam and beauty with argan products and local flower essences. Moroccan owned.
Address: 15 rue Khalid Ben Walid 
Phone: +212-524-78-57-94
Spa Cocooning
A new luxury spa in Essaouira that offers massages, hammam treatments and beauty days with argan products and local flower essences.
Address: 2, Rue Mohamed Ben Masoud
Les Massages Berberes
As the name suggests, this place does massages using essential and local argan oils. Address: 135 Mohamed El Quorry (Bab Marrakech)
 Phone: +212-524-47-31-30
Music Festivals
Alizes Classical Music Festival Every year in April, the Moroccan port city of Essaouira holds one of its many annual festivals. The Spring Festival is called the "Printemps Musical des Alizés" (the Musical Springtime of the Trade Winds). As well as featuring international and Moroccan artists of classical music genres, the festival celebrates the coming of spring. The festival in Essaouira also coincides with the spring season of local religious festivals and pilgrimages of both the Muslim and Jewish faiths. In the local Moroccan Arabic dialect, such festivities are called moussem.
Gnaoua Festival The mysterious music of the Gnaouas celebrated each year in June at the Gnaoua Festival in Essaouira. The Gnaoua Festival attracts a cosmopolitan audience of festival-goers and offers a rich program, reaffirming its goal to emphasize the Gnaoua heritage in all its variety and to invite the best world and jazz artists to come and perform in the unique and magical town of Essaouira. This popular four-day festival features art exhibitions and Gnaoua style music. International musicians and groups from Tangier Marrakesh, and Essaouira perform their Gnaoua sounds at the Place Moulay Hassan and other spaces in the medina and outside its city walls such as Bab Doukkala, Bab Marrakech, Dar Souiri, Chez Kebin, Zaouia Gnaoua, Place Khayma and the Marche Aux Grain.
The Festival des Andalousies Atlantiques (Atlantic Andalucía Festival) This festival celebrates the shared Arabo-Andalusian heritage of Morocco and Spain. The intention of the festival is to encourage peaceful co existence and takes place each Septemberr or October in Essaouira.
For more information about Things to Do in Essaouira.
Morocco's Imperial Cities, Seaside Resorts,Sahara Desert,Berber villages, A Taste of Morocco, Magical Kasbahs, Ruins & Waterfalls, Absolute Morocco, The Best of Marrakech, Fes, and Ouarzazate
Discover The Best of Morocco – Travel Exploration
Travel Exploration specializes in Morocco Travel. We provide Tours and travel opportunities to Morocco for the independent traveler and tailor-made tours for families and groups with a distinctly unique flavor. From Morocco's Seven Imperial Cities, to the Magical Sahara Travel Exploration offers a captivating experience that will inspire you. At Travel Exploration we guarantee that you will discover the best of Morocco! Call Travel Exploration at 1 (800) 787-8806 or + 1 (212) 618882681 and let's book a tour to Morocco for you today.