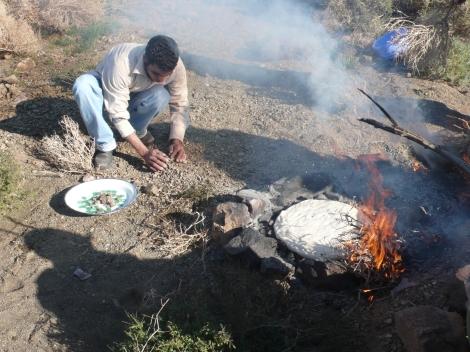 Akin to Spain, bread  in Morocco is a key component of any Moroccan diet. There is an ancient proverb, "manage with bread and butter until God sends honey". This ancient saying affirms that there is availability of bread to all groups in Morocco. For example, the Berbers of the Rif Mountains sustained themselves with bread made from Barely. While present times afford more variety in Moroccan's diets and bread can be supplemented with potatoes, tomatoes, pepper, fruit or nuts, bread still plays an important role in the lives of Moroccans.  In cities, Moroccans can be spotted daily in the early parts of the morning carrying bags of assorted breads that they picked up at the market. In villages women can be found baking bread from scratch in earthen ovens.
Lunch
Traditionally, Moroccans eat three meals a day, with lunchtime remaining the most important as all family members still come home from school or work to eat together.At each of these meals, one person is designated to distribute the bread. 
Community Ovens
Historically, bread has played such an important role in the life of Moroccans. Until the 1980's, almost all Moroccan families made their own bread. The Moroccan child wearing a padded hat would walk to the Fran, carrying a gssa or a red pan filled with yeast on top of their heads. Frans, strategically located community ovens, were found in every neighborhood, and baked dozens of loafs at once. These Frans can still be found and are utilized by the Fassis (local people) in the old Medina of Fes. As there were so many breads baking together, anything placed in the oven was marked with a rubber stamp.
Buying Bread
Today, a faster paced lifestyle in Morocco and an increasing number of households having two working parents has resulted in less use of the Fran. Regardless, if you find yourself being one of the lucky visitors to receive a dinner invitation from a native Moroccan, rest assured that the bread you try will be delicious. Enter any souk during the morning (a Moroccan shopping street in the medina) and you will surely feel a longing to come face to face with the mouthwatering aromas traveling through the air and playing flirtatiously with your sense of smell.  
Bread Types 
Upon entering a bakery, you will be confronted with many choices of breads usually made from coarse barely, flour, wheat, sorghum, or millet. The bread bakers are usually women who are expert in kneading the dough until it is evenly distributed and enriched with herbs, spices, proteins, and other goodies. The breads come in many shapes, sizes, and forms. Some are leavened and others are flat and thin, being shaped into long and crispy donuts or Therfist -unleavened bread in sheets. The most common breads are heavy, spicy, soft crusted and highly absorbent as they are meant to be dipped into a Tajine or Tagine, a traditional stew or sauce. Examples of such breads include Tagella, a special bread made by the Tuaregs of the Sahara or 'Blue people'. The bread is baked on hot sand. Also popular is Khboz Milka-a flattened circular dough cooked until brown on both sides. If you would like to enjoy an everyday bread, try your hand at Batbout. This tasty bread, best described as a soft chewy bagel or a thick pita, is eaten everyday expect during Ramadan. Some of the most exotic bread making experiences can be found in Morrocco's Middle Atas Mountains with Berber families.
Baking
There is an ancient tradition of bread baking on rocks that dates back centuries and is still common among Berber families today. The process begins with the kneading of dough until it is brick-thick and then stuffing it with fresh herbs, fat, spices and chilies. Once the bread has been stuffed, it is placed on a round, short stack of rocks that have been heated evenly by brush fire. The bread is then covered with brush which is burned. Within 20 minutes after it is completely cooked, the brush is cleared off. The bread is then cooled with a whisk and served amidst mountain views and clear skies. This type of thick and wonderfully hearty dish – Berber Mountain bread- is akin to the taste of stuffed pizza.
Bakers
The bread is traditionally made by those Berbers of the Middle and High Atlas, who still retain a Nomadic lifestyle. For those who want to participate in this unique bread making experience it can be included as part of a tour in Southern Morocco whereby one discovers ancient Kasbahs, the Draaa Valley and life in a Berber village through Travel Exploration. 

Travel Exploration
specializes in
Morocco Travel
. We provide Tours and travel opportunities to Morocco for the independent traveler and tailor-made
tours
for families and groups with a distinctly unique flavor. From Morocco's Seven Imperial Cities, to the Magical Sahara Travel Exploration offers a captivating experience that will inspire you. At Travel Exploration we guarantee that you will discover the best of
Morocco
! Google on call Travel Exploration at (917)703-2078 and let's book a tour to Morocco for you today.