Morocco is an an exotic vacation destination. This North African country offers a rich variety of activities whether your interested in  architecture, history, the arts, food, outdoor adventure sports or relaxation. There are a wealth of things to do for families on a vacation, couples traveling alone and also for independent visitors who tend to shy away from organized and private tours. With so many options it's hard to choose. Moroccan Guide books claim they know the Top 10 Best Things to Do in Morocco as do the variety of Morocco travel bloggers out there. Moroccan Tour Packages sometimes can equally be adept as they don't offer the off the beat activities that can make for the most memorable vacation. As natives of Morocco and the founders of Morocco Travel Blog, we offer intrepid travelers the idea Travelers Guide of Where to Eat, Shop and What to Do.
As natives of Morocco and the founders of Morocco Travel Blog, we offer intrepid travelers the ideal Travelers Guide of Where to Eat, Shop and What to Do. Our  list of 12 Things to do in Morocco guarantee an authentic Moroccan travel experience.
12 Things to Do – Quintessentially that have made our 2017 Bucketlist and are guaranteed to satisfy your wanderlust.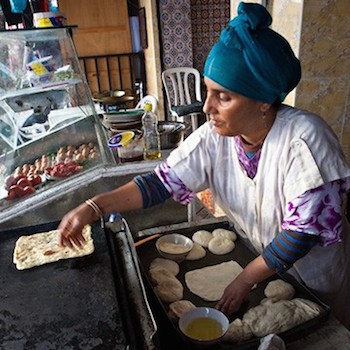 Fes Souks Tasting Tour
1. Souk Tasting, Fes Food Tour in the historic Fes medina. Old world delicacies at your fingertips when you embark on a food tour.  Try traditional Moroccan street food including dried meats, milawi, harsha, briwats, spicy sardines, spicy potato cakes, soups, olives and more. Taste an array of delicious wild honeys, discuss their flavors and health-giving properties and find out why honey is so important in Moroccan cooking and Islamic culture.
2.Glamping in the Sahara Desert's Erg Chebbi Dunes. Go on a Desert Adventure and Overnight in a  Luxury Desert Camp  in sand dunes far away from the touristic areas. Arabian Nights Dinner fireside is served as Berber drummers serinade you. Not to be missed.
3. Marrakech Street Food, Exotic eats down Marrakech's Tangia Alley. Evening exploration and the highlights of Marrakech Street Food Tasting. Sip Tea as the sunsets over Djemaa El Fna Square. On this exclusive guided tour you will make your way through the backstreets and sample two types of slow cooked lamb, Tangia (a Marrakech specialty, traditional Moroccan salads, a mixture of street food dishes such as a grilled sardine sandwich, merguez, or kefta, Moroccan soup and doughnuts, fresh fruit smoothies, Moroccan pastries, roasted sheep head (optional) and for the more adventurous spleen sandwiches.
4. Kicking back in Coastal Essaouira, Beach bumming it by the Sea. Stroll down the Portugese Ramparts in Old Mogador. View the picturesque seagulls as they fly across this historic old city making their way like a private chartered flight back towards the beach. Kick back and lay low with a glass of gris, visit the historic Essaouira medina or bum it by the seas. Essaouira is the first calling for those who want some R&R or a visit to Morocco and it's also the perfect ending to a country wide private tour.
5. Wine & Cheese Tasting in Ounara, Essaouira. Just eight kilometers from Essaouira sits one of Morocco's finest wineries called Val d'Argan. This winery located in Ounara is the perfect pitstop en route to Essaouira on a one day excursion. The wine tasting can include a peppering of reds, rose, whites and Moroccan Gris, all consumed with local cheeses or the option of Moroccan lunch. After you've washed your pallet with some Moroccan wine, head to La Fromagerie for lunch. Owned by Souri native, Abderrazzak, La Fromagerie is a and farm to table restaurant with some of the best "cheese, cheese and more cheese." The menu is prefixed unless you request a la carte. It consists of local organic wine and home made cheeses threaded through every dish served.
6. Sking in Ifrane, the little Switzerland of Morocco. A lesser known region in Morocco is Ifrane. Unlike any other town this small villagge is located in the Middle Atlas and is over 5,000 meters above sea level. Ifrane has a Swiss Alpine village feel to it and is the winter playground for wealthy Moroccans who are in search for winter and skiiing. Ifrane boasts lush, green cedear forrests in spring, summer and fall. Just outside are Berber villages and a Middle Atlas region that is rich agriculturally. The town also hosts students year round with it's famed Al Akhawayn University. Ifrane is an hour from Fes, a UNESCO Heritage sites and serves as the perfect excursion in summer and for skiiing in winter.
7. Exploration of Morocco's Covered Markets. Visit Spice Souks Craft makers. With centuries-old souks, authentic craftsmanship, and tiny workshops, the shopping scene offers both old and new. Moroccan crafts are a fundamental part of Moroccan life. There are covered markets to visit everywhere in Morocco from the historical medina's to the rural country side. Local markets (souks) in the countryside take place on every day of the week. Each region of the country has a local souk that helps supply the population with good. Some are covered markets while others are completely open air. Covered Markets offer the best insiders experience for intrepid travelers who want to see first hand how Moroccans shop. The covered markets in the medina also house charming cooperatives, some of which are run by women that produce, wood, metal, copper, wool, linen, stone, embroidery and clay into distinctly Moroccan products that have been made for centuries. The covered markets offer a perfect opportunity to Shop the Souks of Morocco in style.
8. The Ultimate Hammam experience.  Discover a Moroccan bath house. A scrub with Moroccan salts and Rose water Massage is an essential part of any Morocco travel experience. Hammams have played an important role in Morocco serving as places of social gathering, ritual cleansing and with special customs attached to them. The majority of Moroccans visit a hammam at least once a week. Book a two hour appointment and request for both a Hammam and Massage combination option.  Be prepared to be well scrubbed (in a hot room) on both sides of your body with a rough flat glove called a kiis.  This is a culturally enriching experience.
9. Bread baking with a Berber Family. Meet a local Berber family in the village of Ait Ouzzine nestled between the Sahro and Tamlalt Moutnains. Sip tea with the Berbers and bread bake on volcanic rock. Make a rare speciality bread of the region called Bourafin which is a century-old tradition of gathering brush and rocks, then baking the bread in open mountain, fresh air on age old historic volcanic rock. Walk in the green fields and see how the traditional Berbers live with their gardens of herbs, livestock, and henna plants.
10. A romantic Horse and Carriage ride through the ramparts of Marrakech. A fun way to visit the ramparts of Marrakech is through a Horse-drawn carriage. Through the red hamra city, visitors will see colored horse-drawn carriges in shades of chartruse, hot pink, lemon and orange. These carriges are referred to as calche's. There's nothing quite like taking a caleche ride in historic Marrakech medina as your driver summons the horse to turn down small alley's, navigate the souks, weave between old world palaces and gardens, and then sprints along beside motorcycles and new card into the ville nouvelle (new city). At sunset or even on a rare, rainy evening a calche ride will bring back memories of another century and how travelers once navigated Marrakech.
11. Take a road trip and Wander the Blue Washed City of Chefchaouen. Located in Morocco's Rif, this small city is often referred to as the hidden jewel of the North. Chefchaouen was founded in 1947 by Moorish exilesfrom Spain. Its blue–glazed houses and buildings are a tradition that comes from the town's former Jewish population. Wandering around this blue washed city is one of the top things to do on a visit to Morocco.  It offers an imaginary experience that makes you feel as if you are inside a magifcal story book from the 17th Century. Travelers can venture into the old Kasbah that faces the exterior of the city's walls, shop for handcrafts, taste fresh goat cheese and observe locals doing daily chores.
12. Indulge in ancient history by visting the Berber Museum in Marrakech. The intense blue house and studio of French artist Jacques Majorelle is now the Majorelle Gardens and the Berber Musuem. While visiting the Majorelle Gardens, a stunning botanical garden that became the Moroccan retreat and sanctuary for French fashion designer Yves Saint-Laurent, is on everyone's bucketlist we recommend highly not to miss the Berber Musuem. Formerly known as he Islamic Museum of Art, this new museum was renamed and launched with propert histoical provenance to honor the Berber people and their traditions. As the Berbers are the original inhabitants of Morocco and were driven in the mountains in te 7th Century by Arabs from Yemen, having as much of their history and costume on display pays a long standing homage essential to those discovering Moroccan history. With over 60o objects in the Berber Museum ranging from the Rif to the Sahara this offers vistors a compelling panorama on Berber culture. The renovation of the Berber Museum was carried out by Christophe Martin with museocologiest, Bjorn Dahlstrom. This is a must see piece of Marrakech for all travelers.
 For More Information about Things to do in Morocco 
Morocco's Imperial Cities, Seaside Resorts,Sahara Desert,Berber villages, A Taste of Morocco, Magical Kasbahs, Ruins & Waterfalls, Absolute Morocco, The Best of Marrakech, Fes, and Ouarzazate
Travel Exploration specializes in 
Morocco Travel.
We provide Tours and travel opportunities to Morocco for the independent traveler and tailor-made tours for families and groups with a distinctly unique flavor. From Morocco's Seven Imperial Cities, to the Magical Sahara Travel Exploration offers a captivating experience that will inspire you. At Travel Exploration we guarantee that you will discover the best of Morocco! Call Travel Exploration at 1 (800) 787-8806 or + 1 (212) 618882681 and let's book a tour to Morocco for you today.