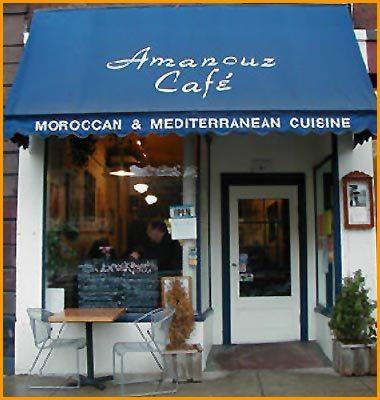 After reading all about the traditional cuisine and sweet mint tea of Morocco I was more than ready to experience it myself when I headed to Amanouz Café in Northampton, Massachusetts. Located on Main Street this unassuming café specializes in the mouth-watering aromas and sumptuous tastes of Moroccan cuisine transporting it from the North African Sahara to this small New England town.
As I made my way to Amanouz Café on a sunny March afternoon I started wondering if I would be able to find anything on the menu that I would actually be able to eat. As a non meat-eater I have found myself in many situations at restaurants where I am forced to nibble on a few lettuce leaves or find myself, once again, ordering the tuna melt because every other option on the menu is loaded with meat. Having read up on Moroccan cuisine I knew that many of the dishes were stews that focused on meats such as chicken or beef and that lamb was often the king of the Moroccan table. Needless to say, Amanouz Café was not about to disappoint me and I walked away from my lunch incredibly full and tremendously satisfied.
Amanouz Cafe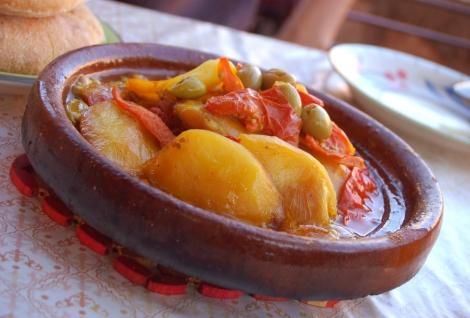 Sitting at one of the small tables in the casual dining area at Amanouz Café I let the soothing Moroccan music wash over me as I surveyed the scene. The walls of the café are lined with the work of local artists and a small bookcase contains pictures and informational books on Mediterranean and Moroccan cultures. Having arrived just before the lunch rush the atmosphere is calm and hushed with many customers sitting alone with a book or a laptop, sipping on their tea and enjoying a moment's peace. The kitchen is at the back of the dining area, allowing patrons to see and smell their meals being prepared with a large counter sectioning it off from the dining area. The counter itself is covered with sweet Mediterranean and Moroccan treats, from honey-filled pastries to pistachio nut-covered cakes. The aromas wafting from the kitchen remind my stomach how hungry it is and I turn my attention to the menu…
A Vegetarian Moroccan Meal
To my surprise, and delight, the menu at Amanouz Café was full of vegetarian options and vegetarian versions of classic Moroccan meals. What I didn't realize is that meat is often a specialty item, especially for Moroccan peasants, and so many dishes featured vegetables and couscous with fish rather than meat. Fresh vegetables, herbs, breads, fish, couscous, and olives are main staples in Moroccan cuisine which means that as a vegetarian I still get to enjoy the traditional, and delicious, Moroccan meals.
The tea came served in a traditional metal tea pot with a water glass that had fresh mint leaves at the bottom. The sweet minty flavor of the tea was absolutely delicious and made me understand the reason for its popularity in Morocco.
Moroccan Sardine Salad
The Sardine salad came next, lettuce, tomatoes, olives, a hard boiled egg and peppers topped with a Moroccan salsa, fresh sardine fillets, and sprinkled with fresh cilantro. Delicious, fresh, and simple, the perfect start to my Moroccan meal.
Moroccan Pizza
Next came the Amanouz pizza, a Moroccan twist on an Italian classic. This individual sized pizza, made on Moroccan pita bread rather than pizza crust, had an ingenious assortment of roasted peppers, Swiss cheese, tomatoes, onions, and olives; needless to say it wasn't left sitting on the plate for very long!
Traditional Moroccan Lentil soup
The soup of the day at Amanouz Café was traditional Moroccan Lentil soup. A thick, dark, and rich soup chock full of tender lentils and finished off with a swirl of olive oil. The soup made a surprisingly delicious, and extremely filling, contribution to the meal.
To my delight I found that not all tagine dishes in Moroccan cuisine focused on meat, this tagine was a stew that consisted of rice, tomatoes, grilled green peppers, and finished with large balls of fish meat on the top. The fish balls were topped with slices of fresh lemon, grated carrots, and fresh parsley and cilantro. It was presented in a traditional tagine by the server who ceremoniously took off the top of the dish allowing the amazing aromas to waft out.
To accompany the tagine I had a side order of traditional Moroccan couscous. The couscous was light and fluffy and seasoned with just enough salt and pepper and finished off with a sprinkling of parsley. It made a great addition to the fish tagine but was also delicious enough to eat on its own. It is quite obvious why Moroccans serve couscous at every meal, as a versatile and delicious dish couscous can make a great addition to any meal or be a meal by itself.
My vegetarian Moroccan adventure came to a close with more Moroccan mint tea and a few nibbles of the delicious sweet pastries from the counter. Extremely full and more than satisfied by my delicious lunch I walked away from Amanouz Café that afternoon already planning what to order during my next visit. With so many delicious vegetarian options I was happy to know that I could enjoy traditional Moroccan cuisine in such a wonderful atmosphere so close to home.

Travel Exploration
specializes in
Morocco Travel
. We provide Tours and travel opportunities to Morocco for the independent traveler and tailor-made
tours
for families and groups with a distinctly unique flavor. From Morocco's Seven Imperial Cities, to the Magical Sahara Travel Exploration offers a captivating experience that will inspire you. At Travel Exploration we guarantee that you will discover the best of
Morocco
! Google on call Travel Exploration at (917)703-2078 and let's book a tour to Morocco for you today.