The weather is very cold, almost frigid at times and the sun shines back lit against Morocco's Atlas Mountains, which are covered by snow. Each peak tells a different story of a Nomad family who once climbed across it, stretching their journey from top to bottom, baking bread by fire, making tea at sunrise and sleeping under the stars in a bivouac, wool tent. These stories are forever, unchanged for centuries as is the way of life lived by the Nomads in Bouthgrar. They share their culture with guests who visit and those of us who live nearby, quietly inviting all into their caves, graciously serving up mint tea in their spotless shining glasses; made in china…. as we, westerners look across the vast landscape and wonder how and why.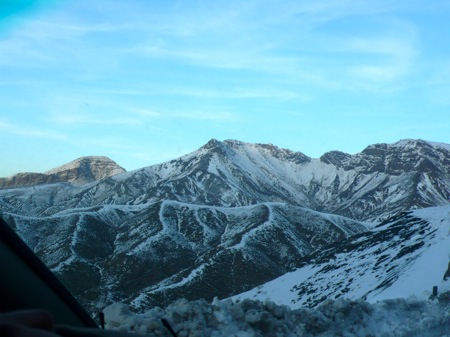 How and why would you be a Nomad? What is your destiny? Why do you stay? Do you know what exists outside your great, vast cool land? Does the hot sun and the cold country wear you down and what lies behind your shy gaze?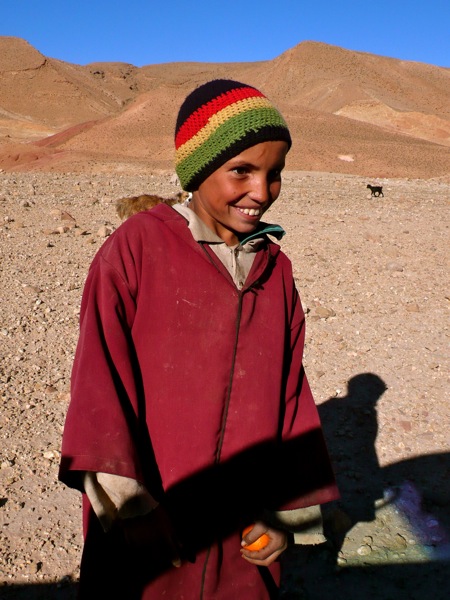 As I drove through the Tickha Pass a couple days ago, returning home to Ouarzazate from Marrakech, these thoughts kept fleeting across my mind. Having spent several days this past month in the Valley of Nomads, Bouthgrar, and with our Nomad friends Mohamed and family, it was their faces that continued to reappear in the morning light, alike miniatures in a dream. This holiday season Travel Exploration Morocco had the good fortune of hosting tours to Americans, Europeans and Swiss guests. While we could not participate on every tour, I at least had the good luck of meeting them all.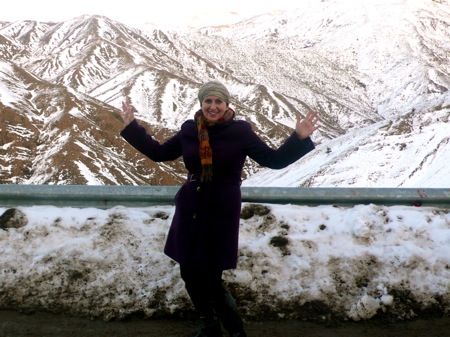 Each guest and family had a different story about his or her adventure in the Sahara and in Mount Mgoun, with the first statement beginning with, "I never knew this part of Morocco existed nor did I realize that it was so beautiful." They all made a point of telling me personally how moved they were to have visited our family for lunch in Ait Ouzzine (N'kob) village, receiving henna painted on their hands, to have driven across the pistes in the Sahara, trekked on a camel, traveled the Dades Valley pins, witnessed one-thousand ancient Kasbahs in Skoura palmary and to see this all juxtaposed against a rugged landscape.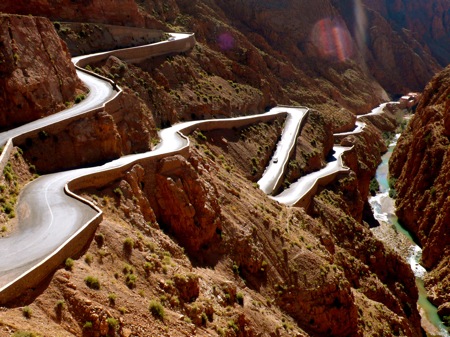 What seemed to be magnified most and expressed to me by each of our visitors was the kindness and generosity of our local guides, drivers and the Nomad families they met Bouthgrar. It is deeply meaningful to be able to share the South I have fallen in love with again and again with others through Travel Exploration Morocco's tailor-made tours. The "Real Morocco" often gets lost awash the big Imperial cities and their architectural grandeur. The cross-pollination of French- Morocco in Marrakech, an ever expanding International Casablanca and the heart of Morocco's intellectual and artistic capital of Fes never seem to escape the push of travel agencies and the tourism board.
For me, I embrace it ALL, appreciating each city for what it has to offer. However it is the region of Ouarzazate that has slowly grown on me when I was not looking and its' branches continue to sprawl leaving me tongue-tied at times. What lies beneath Morocco's fascinating and magnificent Imperial cities is the most majestic place, a natural Morocco that colors ones vision with burnt orange backdrops and golden desert scenery.
Each time I step outside my home in this Saharan, dusty desert town where I live, its breathtaking landscape and sunlight accost my heart and suffocate me with happiness. The people walk in peace side by side and a handshake along with a smile tells one thousand words. I am finally feeling comfortable with my sketchy use of the Berber language and the locals know who I am when I arrive in the market place and stroll the streets alone. New friends from England and France are finding me to an extend invitations for a meal, a visit and a new conversation. It is a time for friendship.
And to witness this beauty is to have discovered a great secret from god. When someone asks my beliefs here, I shy away. To live among nature is to be all, a Muslim, a Jew, a Christian, a Catholic, a Buddhist, an Atheist. I have said a million times, if there is a god, the spirit of it is sure to be found in the Sahara.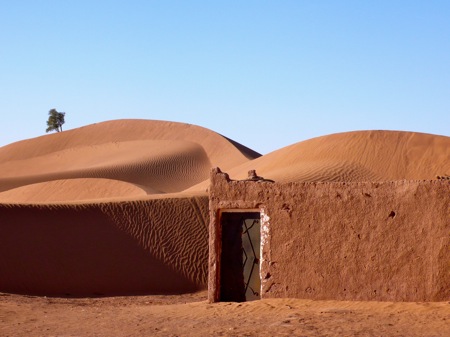 To sleep, in Ouarzazate is to fall into a deep, dream and be carried away across the dunes. I have never slept so well in 38 years but here when I shut my eyes, they close tight and in my rem-state of sleep, I am surrounded by the smells of exotic spices, the musty souk and most of all the locally made Berber perfume from saffron, musk and tree bark.
I had the good fortune of spending a full seven hours in the Tickha Mountains this week. Our drive, in spring, summer and fall that would take only 4 1/2 hours took much longer. We were held-up as were all of the cars that ventured across our great mountain in the midst of winter. After a hearty lunch in the High Atlas Mountains of Tadart, we muddled along and were stopped in rows, one vehicle after another for what seemed like days. I reveled in the passing of time slowly, as it does in Morocco. Thus, I saw a great opportunity to photograph the Tiz N' Tichka Pass as it carried us through its varying altitudes.
My heart missed a beat a couple times when I stepped down from our 4×4 to capture the snow capped mountains with my camera and a charge that had already moved past the red mark, signifying no battery life. Somehow once again Morocco gave back to me more then I gave to her. I managed to take some photographs that I can marvel at when I see them, a memory of a day, an hour, a moment in time lost within the Tiz N' Tichka Pass. The photos boast serene blue haze that is complimented by beaming, tiny car lights and the last seconds of the sun setting.
I am finally settled back in Ouarzazate again for just a week. There is always new venture around the corner here. I shall take the road to Marrakech on Sunday or Monday to meet up with Hossaine, who is just completing a sixteen-day tour circuit. We will have the pleasure of meeting our friends from England, Sarah and Sean who bon chance we met in Essaouira this past November. We are plotting a BEAD TOUR across Morocco!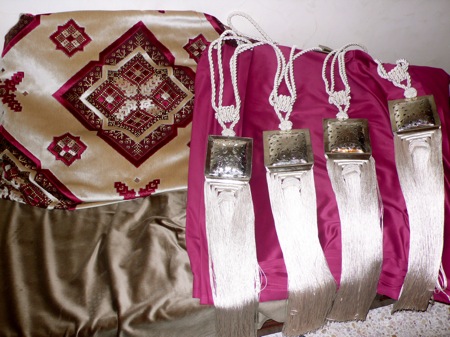 Having enjoyed this weeks' Sunday souk and coming away with a magenta and peach imported Spanish blanket, a royal blue and gold silk scarf plus mounds of vegetables for just under $40.00, I will finally dip into making headway with the marvelous embroidered fabrics I have purchased that lay beside me here. It is now time to create the healing home and I from the things I have collected during our journey during the past months.
Holiday season in the Maghreb, Morocco – The place to Travel and Make Your Home, Even if for Only a Week.
For a complete more information on Morocco's Valley of Nomads & Visiting the Bouthgrar, Mount Mgoun Region
For more information about Travel and Tours to Morocco plus highlights on Moroccan culture visit Morocco's Imperial Cities, Seaside Resorts,Sahara Desert, Berber villages, A Taste of Morocco, Magical Kasbahs, Ruins & Waterfalls, Absolute Morocco, The Best of Marrakech, Fes, and Ouarzazate.
Travel Exploration specializes in Morocco Travel. We provide Tours and travel opportunities to Morocco for the independent traveler and tailor-made tours for families and groups with a distinctly unique flavor. From Morocco's Seven Imperial Cities, to the Magical Sahara Travel Exploration offers a captivating experience that will inspire you. At Travel Exploration we guarantee that you will discover the best of Morocco! Call Travel Exploration at 1 (800) 787-8806  or 1 (917)703-2078  and let's book a tour to Morocco for you today.
Nomads in Bouthgrar, Tizi N' Tichka Pass, Atlas Mountains Morocco, Morocco's Valley of Nomads, Visiting Mount Mgoun, Visiting Morocco's Souks, Holiday Travel in Morocco, Travel in the Dades Valley, Travel in Skoura, Dades Valley Pins, Skoura's one-thousand Kasbahs, Kasbahs in Skoura, 4×4 Travel in Morocco, 4×4 Travel in Morocco's Sahara, Snow capped Atlas Mountains,  Morocco Travel, Tours to Morocco, Morocco Vacations, Morocco Holidays