A Sahara Desert Tour & Camel Trek from Fes to the Sahara Desert is a Morocco Travel opportunity to discover the breathtaking and majestic Erg Chebbi Dunes in the Merzouga Sahara Desert. Traveling Morocco's Sahara Desert from Fes by 4×4 is the perfect Moroccan Sahara Tour as it offers the opportunity to see en route to Merzouga, the Ziz Valley and barbary apes in Ifrane. When considering a Sahara Tour & Camel Trek from Fes a total of 4 days is needed. The Sahara Desert Circuit in 4×4 is a short break from Marrakech and can extend your holiday through this off the beaten path Sahara journey.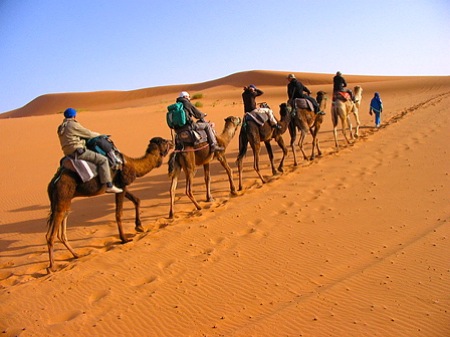 On your Sahara tour from Fes to Merzouga you will have the option to visit the Ziz Valley and Ifrane. Ifrane is often referred to as little Switzerland and boasts Middle Atlas mountain views hilly roads surrounded by lush green trees. Ifrane is situated at an elevation of about 5,400 feet (1,650 metres) above sea level and caters to modern tourists and Moroccans who ski there in winter and have second homes. Ifrane is also home of the Al Akhawayn University, Morocco's first privatized college that was modeled from an American system.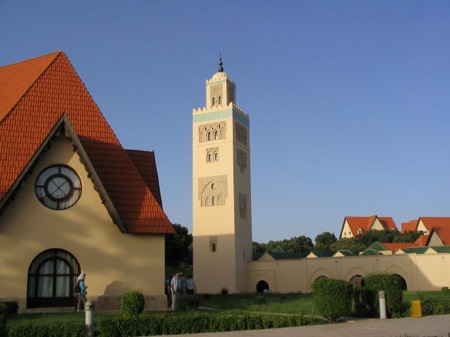 After passing through Ifrane, visiting Merzouga's Erg Chebbi Dunes and spending a majestic Morocco travel and Sahara bivouac experience, you will then be off to visit the Boulmane Dades Valley, the Todra Gorge and Bouthgrar's Valley of Nomads and the piste of Mount Mgoun.
Travel Exploration Morocco is an Ouarzazate Travel Agency based in New York City & Ouarzazate that offers a Sahara Tour & Camel Trek option from Fes. 4×4 Travel to Morocco's Sahara through Travel Exploration Morocco guarantees an authentic Moroccan Sahara journey to Merzouga.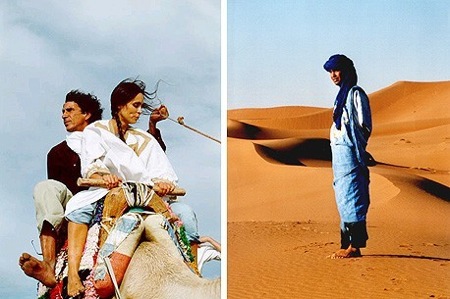 DAY 1: FES- IFRANE – ZIZ VALLEY- MERZOUGA
►Your Driver will pick you up at your Riad/ Hotel in Fes at 9:00am to travel to Morocco's Sahara in a 4×4
►Departure to Merzouga Sahara Desert passing the unusual flora and fauna of the Sahara.
►Enroute to Merzouga's Sahara Desert, we will pass Ifrane, stopping to see the cedar tree forrest and the local barbary monkeys.
▶ We will have lunch during our journey in the Ziz Valley or at another local town en route to the Sahara desert. We will continue the road to Merzouga's Erg Chebbi Dunes and arrive before sunset.
▶ Arrive in Merzouga's Sahara Desert, then go by dromedary camel trek for 2 hours at sunset into the Erg Chebbi Dunes to camp overnight in a Berber Biouvac tent at an oasis. Your Tuareg guide will share some of the Sahara Deserts' secrets. As you glide across humpback on these silent, mystical dunes there will be countless opportunities to photograph the endless rolling dunes.
▶Have dinner and spend the night at a biouvac near the Oasis in the Erg Chebbi Dunes of Merzouga.
DAY 2: MERZOUGA – TODRA GORGE – BOULMANE DADES VALLEY
►Rise, have tea and break. Then take a sunrise camel trek to Merzouga center. Breakfast in Merzouga.
►Discover Merzouga by piste (windy road) and the flora and fauna of the desert. Take the road from Merzouga to Erfoud through Tinerghir and Rissani (old Saharian Desert Town).
►Continue the road by 4×4 land cruiser Morocco travel until you reach the Todra Gorge & Dadles Valley located in Morocco's South.
►Your journey will take you through the Todra Gorge, one of the most impressive and breathtaking Gorge in Morocco.
►Lunch at the foot of the Todra Gorge.
►Then you will continue your visit in the Dadès Valley which covers 125 km between Ouarzazate and Boulmane du Dadès in the High Atlas Mountains.
►Once you reach Boumalne at first sight you notice the limestone cliffs with uniquely shaped erosions and superb scenery and the valley's pise (windy roads). Driving along you will pass flower filled fields, fertile fields, riverbanks and several fortified ksours. At the bottom of Gorge of Boulmane Dadès there are ruined hilltop Kasbahs and valley floor gardens.
►Lunch will be served at a nearby guesthouse that offers local Moroccan fare and a panoramic view of the Dades Valley Gorge. Relax and sip mint tea while gazing at the impressive valley view.
►Moving on, your driver will continue the road towards the breathtaking Todra Gorge. The Todra Gorge is a stunning natural spectacle of pink- grey gigantic rock walls that change colors with the different times of the day. Explore the gorge by foot and make sure to photograph the beautiful ribbon of palms between the cliffs, Berber villages and ancient kasbahs and ksours.
►Have Dinner & Spend the night in the Dades Valley at a Riad/Hotel with a view.
DAY 3: BOULMANE DADES – OUARZAZATE
►Rise and have breakfast in the Boulmane Dades Valley at your Riad.
►Take the road by piste to Mount Mgoun and Bouthgrarar to discover Berber Villages in Southern Morocco. Mount Mgoun is an area in Southern Morocco where you can discover the "Road of Nomads" and the traditional families, how they live.
►Lunch in Mount Mgoun at a Moroccan auberge or within the Valley of Nomads. Take a short hike in the area, then continue the road to Ouarzazate.
►Arrive in Ouarzazate. Dinner at your Riad. Spend the night in Ouarzazate.
DAY 4: OUARZAZATE – MARRAKECH
► Rise, have breakfast at your Riad in Ouarzazate.
►Start your morning by touring the Atlas Film Studios. David Lean filmed Lawrence of Arabia at The Atlas Film Studios in the early 1960's. Since then many famous directors have followed in his footsteps to exploit the magnificent scenery. International blockbusters shot here in recent years include: the French version of Cleopatra, Bertolucci's Sheltering Sky, Scorsese's Kundun, Gillies MacKannon's Hideous Kinky, Ridley Scott's Gladiator, Black Hawke Down, Oliver Stone's Alexander The Great, Ridley Scott's Kingdom of Heaven, and Penelope Cruz's Sahara.
►After visiting the Atlas Film Studio, we will take the road by pise to the picturesque village of Aït Benhaddou located 32 km from Ouarzazate. Aït Benhaddou is situated in Souss-Massa-Draâ on a hill along the Ouarzazate River. Lawrence of Arabia was filmed here and Orson Welles used it as a location for Sodome and Gomorrah; and for Jesus of Nazareth the whole lower part of the village was rebuilt. In recent years more controlled restoration has been carried out under UNESCO auspices. Aït Benhaddou is one of many locations in this region used for shooting Hollywood films.
►Your guide will lead you on a private tour through this Berber village of towered and crenulated kasbahs that once guarded the lucrative caravan route through the Atlas Mountains. Explore the kasbahs by foot with the option to ride a donkey across a river.
► Your guide will share the fascinating history of Aït Benhaddou which once served as the former caravan route between the Sahara and Marrakesh in present-day Morocco. Most of the town's inhabitants now live in a more modern village at the other side of the river; ten families however still live within the ksar.
►Aït Benhaddou was once a significant stop for traders carrying gold, salt and slaves along the famous Southern Caravan route moving through the Sahara. Only six miles away, is the village of Tamdaght, dominated by the canyon walls of a Glaoui Kasbah. The Kasbah is famous and you will find its towers inhabited by storks. Walk outside the Kasbah's lush terraced gardens and witness the same desert scenery that used in Gladiator and Alexander the Great.
►For lunch, relax on a terrace with clear views of Aït Benhaddou and enjoy a traditional Moroccan meal of mfouar (steamed wheat), Takila (a Berber tajine), couscous and fruit. After lunch, browse the village shops then climb back in the comfortable air-conditioned/heated 4×4 and head to the village of Tamadaght.
►After lunch, we will depart Aït Benhaddou and take the road to Marrakech.
►En route to Marrakech, stop to visit the Argan Cooperative where women make Argan Oil, Argan butter and cosmetics. Have a complimentary tasting and sample the products.
►Arrive in Marrakech in the early evening. This completes your Sahara Tour & Camel Trek journey from Fes to Merzouga
►Arrive in Marrakech in the early evening. This ends your Sahara Tour & Camel

For More information about Sahara Tours on Morocco Travel Exploration
For more information about Travel and Tours to Morocco plus highlights on Moroccan culture visit Morocco's Imperial Cities, Seaside Resorts, Sahara Desert, Berber villages, A Taste of Morocco, Magical Kasbahs, Ruins & Waterfalls, Absolute Morocco, The Best of Marrakech, Fes, and Ouarzazate.
Sahara Desert Tours, 4×4 Sahara Tours, Sahara Tours from Fes to Merzouga, Sahara Tours from Fes to Marrakech, Camel TrekTours from Fes to Merzouga, Camel Trek Tours from Fes to Marrakech, Sahara Tour to Erg Chebbi Dunes, Sahara Tours to Merzouga, 4×4 Sahara Tours from Fes, Camel Treks from Fes, Morocco Travel, Tours to Morocco, Morocco Vacations, Morocco Holidays
Travel Exploration specializes in Morocco Travel. We provide Tours and travel opportunities to Morocco for the independent traveler and tailor-made tours for families and groups with a distinctly unique flavor. From Morocco's Seven Imperial Cities, to the Magical Sahara Travel Exploration offers a captivating experience that will inspire you. At Travel Exploration we guarantee that you will discover the best of Morocco! Call Travel Exploration at 1 (800) 787-8806  or 1 (917)703-2078  and let's book a tour to Morocco for you today.