Why not make next year's Marrakech Grand Prix part of your Moroccan travel experience?
Featuring three days of non-stop action in Marrakech, and attended by nearly ten thousand visitors for the second year in a row,  the race is packed with both adults and children.  The entire course is well-protected by barriers and grandstands are set up in specified areas.  Portable restrooms are conveniently located in all areas.
Tickets are available in all price ranges, starting as low as 2 Euros, with VIP packages running as high as 1500 Euros.  Most categories of tickets sell out.  The most exciting package for 400 Euros, allows attendees to take a ride in the cars, seated behind the driver, where they can experience the thrill of acceleration to 200 miles per hour in 5 seconds.
The best VIP packages in Morocco put you in hotel rooms overlooking the pits, with permanent access to the fully-catered, open-bar suite overlooking a spectacular view of the start/finish line.  You have access to private parties where you mingle with celebrites and international models.  You also have exclusive access to all behind-the scenes locations such as the pit lane, VIP grandstands, private balcony, and commercial village.  (Corporate pacakges are available as well.)
Children and teenagers especially love the noise of the cars and general excitement of the race.  Of course, everyone hopes to see a crash, but is relieved when drivers escape unscathed.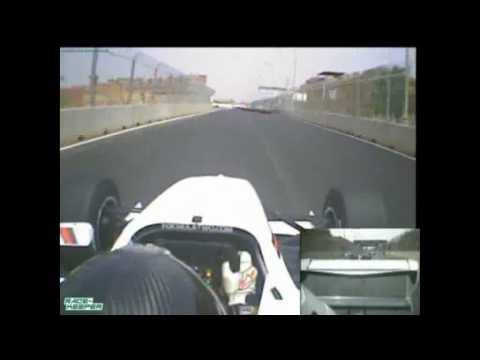 Above is the footage of Ricardo Teixeira's airborne crash in the second Marrakech race, from the onboard perspective of driver Paul Rees, on May 2, 2010. (Both drivers were fine after the crash, as were the other three drivers impacted by the crash.)
The crash occured when Portugese-Angolan driver Ricardo Teixeira was trying to overtake Russian driver Ivan Samarin.  Teixeira suddenly found himself flying through the air after his car touched the back end of Samarin's, while trying to overtake Samarin. Austria's Philipp Eng won the race.
Teixeira said in a post-crash interview with Autosport magazine, "It was the first big crash I've ever had and it was very strange. I…went straight up. At first all I was thinking was angry at him, then I realised I was up in the air and turning – when I looked down and thought 'I can see all the cars down there!' "
Why not make your plans now with Morocco Travel Exploration for attending next year's Marrakech Grand Prix?  It will be held April 30 – May 2, 2011, and remember the best packages sell out in advance.
For more information about making the Grand Prix in Marrakech Part of Your Moroccan Holiday
For more information about Travel and Tours to Morocco plus highlights on Moroccan culture visit Morocco's Imperial Cities, Seaside Resorts,Sahara Desert, Berber villages, A Taste of Morocco, Magical Kasbahs, Ruins & Waterfalls, Absolute Morocco, The Best of Marrakech, Fes, and Ouarzazate
Travel Exploration specializes in Morocco Travel. We provide Tours and travel opportunities to Morocco for the independent traveler and tailor-made tours for families and groups with a distinctly unique flavor. From Morocco's Seven Imperial Cities, to the Magical Sahara Travel Exploration offers a captivating experience that will inspire you. At Travel Exploration we guarantee that you will discover the best of Morocco! Call Travel Exploration at 1 (800) 787-8806  or 1 (917)703-2078  and let's book a tour to Morocco for you today.
Car races in Morocco, Celebrities in Morocco, Children's activities in Marrakesh, Family Vacations in Marrakesh, Family Vacations in Morocco, Grand Prix, International Models in Morocco, Ivan Samarin, Marrakech, Marrakesh, Morocco, Paul Rees, Phillipp Eng, Private Parties in Morocco, Race Car Crashes in Marrakech, Ricard Teixeira's airborne crash in Marrakech, Things for children to see and do in Marrakech, Morocco Tours, Morocco Travel, Tours to Morocco, Morocco Vacations, Morocco Holidays