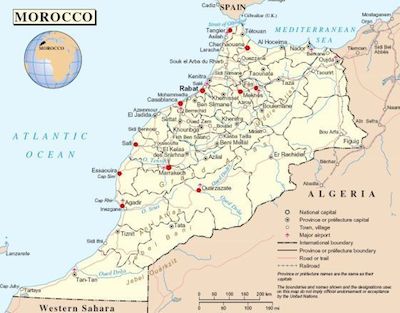 Morocco Travel Map
Morocco has for centuries held a deep fascination by outsiders and what better a way to discover the country then to start by being an arm chair traveler. If you are planning on visiting Morocco there are numerous options ranging from a Tailor Made Tour to a Morocco Luxury Tour to a Private Group Tour. Regardless of the kind of tour you take, a travel Map of Morocco will make for a signficant difference in understanding the destination.
Morocco is one of the world's most diverse countries and offers a complete, inspirational travel experience. Its unique combination of Mountain regions from the Rif Mountains in the North to the High Atlas, Middle Atlas in the South, make for stunning trekking experience for families adventures, small groups and in particular those independent travelers interested in trekking through Berber villages to obtain an insiders view on the local culture. The vast Sahara Desert and Morocco's Imperial Cities of Casablanca, Rabat, Meknes, Fes and Marrakech are all unique and among themselves can serve as a single travel destination that can be explored for weeks on end.
The country of Morocco has a population of over 34 million people.  Morocco is a constituitional Monarchy with an elected parliment. The predoiment relgion of Morocco is Islam and the languages spoken are Moroccan Darija (Moroccan Arabic) and Tamazight (Berber).
Having a Morocco Map on hand when traveling the country of Morocco is essential. One of our friendly Morocco Maps has red dots that when clicked on offer a link to a Morocco Tailor Made Tour. The other Moroccan Map we offer includes the tour routes that you will travel and offers a line where each tour will start and end. Travelers to Morocco are recommended to start or end in Casablanca or Mararkech. These two Imperial Cities offer the most opportunities for income and outgoing flights to the USA, to Europe and Asia.
To view our Moroccoa map or visit Travel Exploration.

Travel Exploration specializes in Morocco Travel. We provide Tours and travel opportunities to Morocco for the independent traveler and tailor-made tours for families and groups with a distinctly unique flavor. From Morocco's Seven Imperial Cities, to the Magical Sahara Travel Exploration offers a captivating experience that will inspire you. At Travel Exploration we guarantee that you will discover the best of Morocco! Google on call Travel Exploration at (1800-787-8806 and let's book a tour to Morocco for you today.